Texa Navigator TXB Diagnostic Tester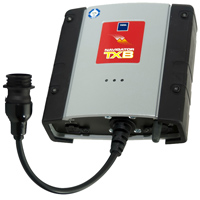 Texa Navigator TXB
The NAVIGATOR TXB is a new generation of multi-brand tool able to connect to any PC or Palmtop, as well as the new AXONE Palm and Pad, to perform the most accurate diagnostics of the electronic systems of motorcycles, scooters, quads and jet skis.
Thanks to the features offered by this wireless interface, it is possible to access all the electronic systems on board by directly connecting to the diagnostic plug.
By using the NAVIGATOR TXB it is possible to perform operations such as:
Reading/erasing the error messages
Evaluating system parameters
Resetting of service warning lights
Adjustments to fuelling
Key programming
And much more
By using a wireless Bluetooth connection to communicate with the display unit the NAVIGATOR TXB eliminates the need for cables.
The innovative IDC4 software is entirely designed and developed by TEXA and provides the user diagnostic information as well as wiring diagrams and technical bulletins. The diagnostic database covers all the main manufacturers and over 1000 models. This information is periodically updated via an internet connection or DVD.
IDC4 Software
TEXA's new IDC4 is the most advanced operating software available on the market and combines flexible, intuitive and easy to use software functions and applications. The IDC4 software covers five different vehicle groups: Car, Truck, Bike Agri and Marine.
In addition to the dedicated Axone4 & Mini touch screen tablets the IDC4 software from TEXA can also be installed on a Windows desktop or laptop PC already in a workshop.
Packages
The Navigator TXB is available to purchase in the Texa Bike Mini package. For information and for detailed pricing, please click below:
Bike Mini Package
Technical Specification
Processor: INTEL PXA255 400MHz
Internal storage: 64 Mb SDRAM, 64 Mb FLASH
Power supply:8 ÷ 16 Volt
Consumption at 12 V 0.25 A typical
Power supply connector : from 4-pin power mini-din or diagnostic cable
USB connections : 1 USB 2.0 device connection, 1 USB 2.0 Host connection, with the possibility of updating the software version
Wireless connection to PC: Bluetooth 2.0
Electronic selector switch: 5 K lines, 3 L lines, with 100 mA current protection controlled by FPGA
Diagnostic connector: AMP CPC series, 16 pins, male contacts
Operating temperature: +0°C/ +45°C
Storage temperature: -20°C/ +60°C
Operation and service humidity: 10% ÷ 80% with no condensation
Dimensions: 160x170x55 mm (CPC16 cable and antenna not included)
Weight: 1,1 Kg
Supported Communication Protocols Blink codes K, L (with current protection) ISO9141-2, ISO14230, CAN, ISO11898, ISO11519-2, SAE J1850 PWM SAE J1850 VPW