AD100Pro Technical Specification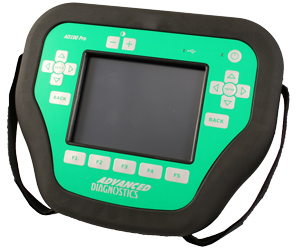 Product Features
Enhancing the highly successful AD100, was not easy, however the AD100Pro extends the boundaries even further.
The AD100Pro now benefits from a large LCD touch screen/versatile keypad for easy navigation/selection, and a USB interface for fast software downloads.
AD100Pro has been designed with simplicity in mind and the variety of adaptors required for AD100Pro have been integrated within simple colour coded dongles that configures the tester, thus reducing the quantity of cables required.
Although only fitted to a few US vehicles at present, a new vehicle interface 'Single Wire CAN' has been added to the AD100Pro, along with all the standard interfaces, plus the CCD and VPW protocols.
Combined with enhanced security and increased memory capacity, the AD100Pro positions itself as the leading transponder key programming tool in the world.
Software Features
Reads Fault Codes
Clears Fault Codes 
Displays Live Data
Component Actuation
Reads Immobiliser ECU ID's 
Reads Mechanical Key Codes
Clears Key Memories 
Programs New Keys
Extracts Immobiliser Pincodes 
ECU Identification
ECU, Immobiliser Learn Coding 
Reads EKA Codes 
Programs New EKA Codes 
Programs Plip Keys
Technical Specification
USB serial interface
320x240 Graphical LCD, backlit touch screen 
64Meg Memory
Enhanced security
Internet software upgrades
User ID password protection
12V powered from vehicle
CAN BUS Protocol interface
Single wire CAN protocol interface
Delivery Specification
AD100PRO Handheld tester
Carrying Case
Power / software loading lead
Operating Manual
Specific softwares purchased
Vehicle Specific Dongles
Smartcard Security Calculator 
12 Month warranty
Online Forum and 12 months Technical support
AD100Pro Basic Training courses (optional at additional cost)
Security
The security of the AD100Pro is of great importance to us. If the unit should fall into the wrong hands it can be a powerful asset to a vehicle thief.
Every AD100Pro has an individual serial number and a record is kept of each owner.
The AD100Pro has a user ID protection, before the AD100Pro will operate a 6-digit code must be entered, after a few incorrect attempts, the AD100Pro corrupts the memory and has to be returned for reprogramming.
When purchasing new software, the system will only upgrade if the tester is of the correct serial number. Therefore if the tester falls into the incorrect hands, the unit can never be upgraded.