AD100Pro - Product Support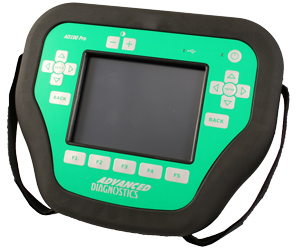 Kit Contents
The tester comes with an in-depth manual with step by step programming instructions, programming methods and system recognition.
New software can be upgraded via a PC link with software being downloaded from our website's download section. (www.hickleys.com)
A full range of replacement and service parts are available.
12 months free technical helpline on all programming issues, vehicle problems and key applications. We are arguably the most experienced specialists in the field, offering you an essential and valuable service.
The manual includes Hints and Tips of useful information offered from other users. The Manual also includes a range of procedures to manually program vehicle remotes where this is possible without an AD100Pro / MVPPro.
The tester is supported by a 12 months parts and labour warranty. A range of original equipment and copy keys, remotes and transponders are offered to compliment the use of the tester.
Extended Warranty
For details of our Extended Warranty package that provides cover for your hardware, as well as continued Technical Support, please see our Extended Warranty page.
In Service Repairs
We offer two options
Return your tester for inspection and repair, this service enables your tester to be repaired at the minimum cost. This service can take up to 6 weeks
Return your tester for a immediate repair including the replacement of the computer board. Using this service enables your tester to be returned within 3 weeks. For this service there is a set price of £500.00 + VAT.
Join The Forum
Share information and discuss vehicle related problems with fellow AD100 & AD100Pro users. The AD100 Forum is run by Advanced Diagnostics, the makers of the key programming testers.