Waeco ASC1000G R134A Air Con Station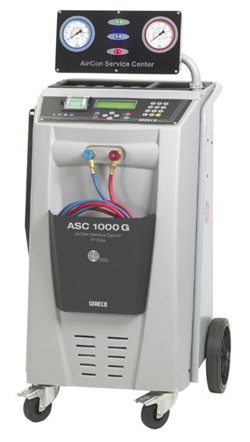 Waeco ASC1000G R134A Air Conditioning Station
Fully automatic service unit for all A/C specialists. The ASC1000G has all it takes to perform standard service work on automotive air conditioners. The quick-start function comes in very handy in everyday workshop use. Simply enter the amount of refrigerant to be charged, make a total of three input instructions, and the unit will automatically do all the required functions:
Refrigerant recovery and recycling
Residual pressure measurement
Used oil drainage
Evacuation
Leak check
Charging of fresh oil and UV additive
Refrigerant charging with charging amount compensation of the service hoses.
All process steps are fully automatic and self-monitored by the system. Errors are indicated by acoustic and visual signals from the swivel-mount display unit. Software updates can simply be done with a USB stick.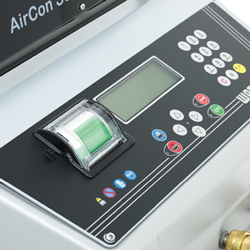 Features
Sturdy metal housing
Charging cylinder storage capacity: 10 kg, vacuum pump capacity: 4 cars/h
Patented feeding system for fresh oil and UV additive
Print-out of important service data, several print-outs possible
Fully automatic refrigerant recycling, oil and additive management
Automatic vacuum check
Automatic charging of leak detection additive
Integrated refrigerant charging and recovery amount management
Integrated charging amount database
Complies with SAE J 2099 and SAE J 2788
Personalised charging amount database
Operator guidance via large display and manometer
Swivel and tilt manometer panel (patented)
Heated charging cylinder for high-speed charging, heat-up also possible during the charging process
Special, 8-bearing weighing platform
Special air conditioner flush function
Large recessed tray for tools
500 ml used oil container for longer change intervals
Also suitable for German-make hybrid vehicles
Suitable for Asian-make hybrid vehicles when optional flushing kit is installed
USB interface
Soft graphic display
Individual User Code
To prevent unauthorised use of WAECO A/C service units, up to 10 user names can be programmed in combination with individual PIN codes.
Personalised Charging Amount Database
ASC-series units give you the option to create a personalised charging amount database for 100 different vehicle
USB Interface
Via the USB port you can simply update the software of the service unit. Or export important data to a USB stick for further processing on a laptop or PC.
Technical Specification
| | |
| --- | --- |
| Power Supply | 220/240 V – 50/60 Hz * |
| Suitable for refrigerant | R 134a |
| Purity of recovered refrigerant according to SAE J 2099 | yes |
| Refrigerant recovery rate in kg/h | 30 |
| Vacuum pump capacity | 4 cars/h |
| Performance of the hermetic compressor in kW | 0,32 |
| Dry filter capacity in kg | 150 |
| Refrigerant recycling rate | min. 95 % |
| Can be used as diagnosis tool | no |
| Charging cylinder/useful capacity (kg) | 11 |
| Charging amount indicated by | Display |
| Refrigerant analysis | no |
| Recovery/recycling | automatic |
| Purging of non-condensable gases | automatic |
| Purging of used oil | automatic |
| Evacuation | automatic |
| Vacuum check | automatic |
| Nitrogen leak check | no |
| Injection of leak detection additive | automatic |
| Injection of oil into the A/C system | automatic |
| Refrigerant charging | automatic |
| High/low pressure indicated by | Manometer |
| Vacuum indicated on | Display |
| Total process control via display | yes |
| Option to set the evacuation time | yes |
| Protocol print-out with printer | yes |
| USB connection for software- and database updates | yes |
| Printer | yes |
| Service hoses (SAE standard), 3 m | yes |
| Service hoses (SAE standard), 8 m | no |
| Valve adapter for WAECO refrigerant bottles | yes |
| Operating instructions | yes |
| Adapter for 500 ml fresh oil and UV tracer dye bottle | yes |
| Used oil container (500 ml) | yes |
| Hermetically closed used oil container | no |
| Heated refrigerant tank / fluid pump (F) | yes / no |
| Dust cover | no |
| Goggles / safety gloves | yes |
| Test bottles UV additive for approx. 10 applications | yes |
| Bottle of fresh PAG oil ISO 46, 500 ml | yes |
| Bottle of fresh PAG oil ISO 100, 500 ml | yes |
| Bottle of fresh POE oil SE 55, 500 ml | no |
| Bottle of fresh PAG oil ND 12, 100 ml | no |
| Dimensions (W x H x D, in mm) | 560 x 1300 x 650 |
| Weight (kg) | 95 |