Waeco ASC1300G R134A Air Con Station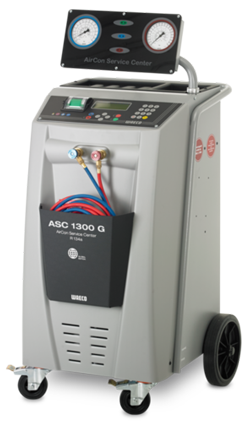 Waeco ASC1300G R134A Air Con Station
Fully automatic service unit for R134a A/C systems with quick-start function. Inexpensive entry-level model with all essential functions included.
Convenient software update via USB port.
Value for money – all essential functions at a competitive price
Fully automatic operation with quick start function – saves time in the workshop
USB interface for convenient software update or export of service data
Humidity-free feeding system for fresh oil and UV additive
Integrated refrigerant charging and recovery amount management
Database with personalized charging amount for 100 different vehicles
Individual user code prevents unauthorized access
The low investment ASC 1300 G is ideal for anyone who has just started to provide A/C service on R134a air conditioners. Offering you all the features required to work safely, it also saves you time by performing all service processes automatically.
Expecting more orders in the future? You can easily upgrade your service unit at a later date – add a heat belt for the charging cylinder, or our humidity-free storage and feeding system for fresh oil and UV additive. A USB port for convenient software updates is already included.
Downloads
Technical Specification
General

SKU number 9103301886
For Refrigerant R134a
Input voltage (AC) 220-240 V
Input frequency 50/60 Hz

Recovery / Recycling

Purity of recovered refrigerant (SAE J 2099) Yes
Refrigerant recovery rate 30.00 kg/h
Vacuum pump capacity 4 cars/h
Performance of the hermetic compressor 0.32 kW
Dry filter capacity 150.00 kg
Refrigerant recycling rate Min. 95 %
Can be used as diagnosis tool No

Charging
11.00Kg
Processes

Refrigerant analysis External / Optional
Recovery/recycling Automatic
Purging of non-condensable gases Automatic
Purging of used oil Automatic
Evacuation Automatic
Vacuum check Automatic
Nitrogen leak check No
Injection of leak detection additive Automatic
Injection of oil into the A/C system Automatic
Refrigerant charging Automatic

Control Panel

High/low pressure indicated by Manometer
Vacuum indicated by Display
Total process control indicated by Display
Option to set the evacuation time Yes
Protocol print-out possible Yes