Waeco ASC2000G R134A Air Con Station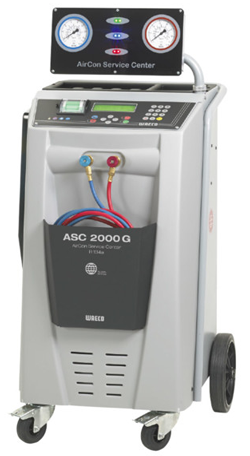 Waeco ASC2000G R134A Air Con Station
With patented feeding system for fresh oil and UV additive. Ease of use at its best. Designed for professional A/C service on trucks and cars, the ASC2000G minimises operator effort and throughput time. Prior to system start the operator can read the oil level from the display.
Afterwards, the following processes are performed fully automatic:
Refrigerant recovery and recycling
Residual pressure measurement
Used oil drainage
Evacuation
Leak check
Fresh oil and UV additive charging
Refrigerant charging with charging amount compensation of the service hoses
Additional ASC2000G benefits:
Large charging cylinder storage capacity (21 kg)
Dust cover included as standard
Accurate oil management with 4 separate micro scales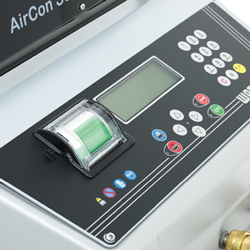 Features
Charging cylinder storage capacity: 21 kg, vacuum pump capacity: 5 cars/h
Patented feeding system for fresh oil and UV additive incl. test bottles
Print-out of important service data, several print-outs possible
Dust cover included
Fully automatic refrigerant recycling, oil and additive management
Automatic vacuum check
Automatic charging of leak detection additive
Integrated refrigerant charging and recovery amount management
Integrated charging amount database
Complies with SAE J 2099 and SAE J 2788
Personalised charging amount database
Operator guidance via large display and manometer
Swivel and tilt manometer panel (patented)
Heated charging cylinder for high-speed charging, heat-up also possible during the charging process
Special, 8-bearing weighing platform
Special air conditioner flush function
500 ml used oil container for longer change intervals
Also suitable for German-make hybrid vehicles
Suitable for Asian-make hybrid vehicles when optional flushing kit is installed
USB interface
Soft graphic display
Individual User Code
To prevent unauthorised use of WAECO A/C service units, up to 10 user names can be programmed in combination with individual PIN codes.
Personalised Charging Amount Database
ASC-series units give you the option to create a personalised charging amount database for 100 different vehicle
Built-in Data Printer
Measurements can be printed out as often as desired once the service process has been completed. The amount of recovered refrigerant can be blanked out if required.
USB Interface
Via the USB port you can simply update the software of the service unit. Or export important data to a USB stick for further processing on a laptop or PC.
Technical Specification
| | |
| --- | --- |
| Power Supply | 220/240 V – 50/60 Hz * |
| Suitable for refrigerant | R 134a |
| Purity of recovered refrigerant according to SAE J 2099 | yes |
| Refrigerant recovery rate in kg/h | 30 |
| Vacuum pump capacity | 5 cars/h |
| Performance of the hermetic compressor in kW | 0,32 |
| Dry filter capacity in kg | 150 |
| Refrigerant recycling rate | min. 95 % |
| Can be used as diagnosis tool | no |
| Charging cylinder/useful capacity (kg) | 21 |
| Charging amount indicated by | Display |
| Refrigerant analysis | no |
| Recovery/recycling | automatic |
| Purging of non-condensable gases | automatic |
| Purging of used oil | automatic |
| Evacuation | automatic |
| Vacuum check | automatic |
| Nitrogen leak check | no |
| Injection of leak detection additive | automatic |
| Injection of oil into the A/C system | automatic |
| Refrigerant charging | automatic |
| High/low pressure indicated by | Manometer |
| Vacuum indicated on | Display |
| Total process control via display | yes |
| Option to set the evacuation time | yes |
| Protocol print-out with printer | yes |
| USB connection for software- and database updates | yes |
| Printer | yes |
| Service hoses (SAE standard), 3 m | yes |
| Service hoses (SAE standard), 8 m | no |
| Valve adapter for WAECO refrigerant bottles | yes |
| Operating instructions | yes |
| Adapter for 500 ml fresh oil and UV tracer dye bottle | yes |
| Used oil container (500 ml) | yes |
| Hermetically closed used oil container | no |
| Heated refrigerant tank / fluid pump (F) | yes / no |
| Dust cover | yes |
| Goggles / safety gloves | yes |
| Test bottles UV additive for approx. 10 applications | yes |
| Bottle of fresh PAG oil ISO 46, 500 ml | yes |
| Bottle of fresh PAG oil ISO 100, 500 ml | yes |
| Bottle of fresh POE oil SE 55, 500 ml | no |
| Bottle of fresh PAG oil ND 12, 100 ml | no |
| Dimensions (W x H x D, in mm) | 560 x 1300 x 650 |
| Weight (kg) | 100 |