Waeco ASC2000RPA R134A Air Con Station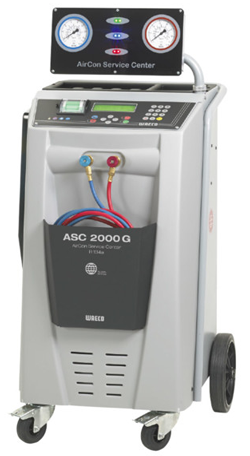 Waeco ASC2000RPA R134A Air Con Station
With Fully Automatic Refrigerant Analysis
The unnoticed presence of contaminated refrigerant in a vehicle A/C system or refrigerant bottle runs the risk of contaminating all the vehicles serviced afterwards. The workshop owner may face substantial damage claims as a result. A refrigerant analysis tool prevents the trouble.
RPA stands for Refrigerant Purity Analyser – a system which checks whether the vehicle A/C system and A/C service unit really contain pure R 134a and nothing else. Besides R 134a, the ASC2000RPA also recognises R 12, R 22, HC and air.
The most frequent reasons for refrigerants contamination are refrigerants imported from the Far East or the presence of air in the vehicle A/C system.
A vehicle A/C system can only operate successfully when filled with pure R 134a. Air entering the system means a serious problem. Possible consequences: Increased operating pressure and functional problems of the A/C system. Corrosion caused by the humidity admitted with the air. Substantial reduction of the refrigeration performance. Substantial strain on the compressor suction and pressure valves caused by increased pressure in the system.
Nitrogen Leak Check
In order to meet our commitment to protect our environment it is necessary to release as little refrigerant as possible into the atmosphere. In addition to the existing, fully automatic vacuum leak test function integrated in the service unit it is possible to admit nitrogen to the system. This method eliminates the drawback of leak tests solely by vacuum (components such as A/C tubes might contract and thus close a leak). Exposure to pressurised nitrogen during A/C service tells you immediately whether the system is tight. The test is carried out fully automatic by the ASC2000RPA.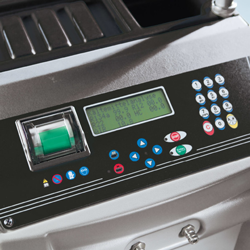 Features
Charging cylinder storage capacity: 21 kg, vacuum pump capacity: 5 cars/h
Patented feeding system for fresh oil and UV additive incl. test bottles
Print-out of important service data, several print-outs possible
Dust cover included
Fully automatic refrigerant recycling, oil and additive management
Automatic vacuum check
Automatic charging of leak detection additive
Integrated refrigerant charging and recovery amount management
Integrated charging amount database
Complies with SAE J 2099 and SAE J 2788
Personalised charging amount database
Operator guidance via large display and manometer
Swivel and tilt manometer panel (patented)
Heated charging cylinder for high-speed charging, heat-up also possible during the charging process
Special, 8-bearing weighing platform
Special air conditioner flush function
500 ml used oil container for longer change intervals
Also suitable for German-make hybrid vehicles
Suitable for Asian-make hybrid vehicles when optional flushing kit is installed
USB interface
Soft graphic display
Fully Automatic Testing of Refrigerant Purity
The ASC2000RPA A/C service unit ensures that the A/C system only contains pure R  134a, neither contaminated with banned refrigerants nor mixed with air.
Prior to the actual recycling process the service unit automatically removes and analyses a small refrigerant sample (9.5 g). The results are shown on the unit display. The operator receives a significant, qualified assessment of the refrigerant in the A/C system connected to the service station and can exactly determine what repairs or maintenance may be required.
If the refrigerant is fine, the ASC2000RPA continues its fully automatic programme.
Technical Specification
| | |
| --- | --- |
| Power Supply | 220/240 V – 50/60 Hz * |
| Suitable for refrigerant | R 134a |
| Purity of recovered refrigerant according to SAE J 2099 | yes |
| Refrigerant recovery rate in kg/h | 30 |
| Vacuum pump capacity | 5 cars/h |
| Performance of the hermetic compressor in kW | 0,32 |
| Dry filter capacity in kg | 150 |
| Refrigerant recycling rate | min. 95 % |
| Can be used as diagnosis tool | no |
| Charging cylinder/useful capacity (kg) | 21 |
| Charging amount indicated by | Display |
| Refrigerant analysis | automatic |
| Recovery/recycling | automatic |
| Purging of non-condensable gases | automatic / electronic |
| Purging of used oil | automatic |
| Evacuation | automatic |
| Vacuum check | automatic |
| Nitrogen leak check | automatic |
| Injection of leak detection additive | automatic |
| Injection of oil into the A/C system | automatic |
| Refrigerant charging | automatic |
| High/low pressure indicated by | Manometer |
| Vacuum indicated on | Display |
| Total process control via display | yes |
| Option to set the evacuation time | yes |
| Protocol print-out with printer | yes |
| USB connection for software- and database updates | no |
| Printer | yes |
| Service hoses (SAE standard), 3 m | yes |
| Service hoses (SAE standard), 8 m | no |
| Valve adapter for WAECO refrigerant bottles | yes |
| Operating instructions | yes |
| Adapter for 500 ml fresh oil and UV tracer dye bottle | yes |
| Used oil container (500 ml) | yes |
| Hermetically closed used oil container | no |
| Heated refrigerant tank / fluid pump (F) | yes / no |
| Dust cover | yes |
| Goggles / safety gloves | yes |
| Test bottles UV additive for approx. 10 applications | yes |
| Bottle of fresh PAG oil ISO 46, 500 ml | no |
| Bottle of fresh PAG oil ISO 100, 500 ml | no |
| Bottle of fresh POE oil SE 55, 500 ml | no |
| Bottle of fresh PAG oil ND 12, 100 ml | no |
| Dimensions (W x H x D, in mm) | 560 x 1300 x 650 |
| Weight (kg) | 100 |