Waeco ASC5500RPA R1234yf Air Con Station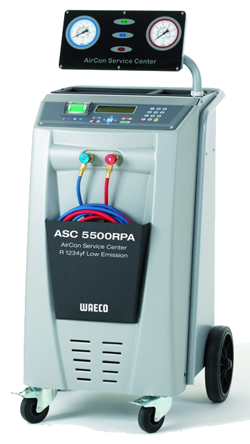 Waeco ASC5500RPA Low Emission R1234yf Air Con Station
Low Emission Service Unit for R 1234YF With Integrated Gas Identifier
They may be only a few, but they are there – the first new vehicle models with A/C systems prepared for the use of R 1234yf refrigerant. Brand-bound motor garages, in particular, are obliged to get prepared for servicing these systems. Against this backdrop WAECO's AirCon professionals have designed, in close cooperation with the automotive industry, the ASC5500RPA service unit.
As R 1234yf is very sensitive to contamination with other refrigerants, the ASC5500RPA was fitted with an integrated analysis tool that checks the refrigerant purity. Designed inside out for use with R 1234yf refrigerant, the ASC5500RPA meets fire regulations and offers all the benefits known from the "classic" models in the ASC series.
Extra Safety
The service unit comes with integrated refrigerant analysis function. Explosion protection: hazard analysis performed by an independent test institute.
Automatic, Regular Leak Check
Service couplers with clearance ventilation prevent refrigerant leakage.
Switch-on Delay and External Ventilation
R 1234yf is flammable under certain conditions. Therefore, the system start will on activate the external fan. After the fan has been running for 35 seconds, the voltage is passed on to the system.
Low-Emission Concept
Close to 100% refrigerant recovery.
Features
Sturdy metal housing
Charging cylinder storage capacity: 16 kg, vacuum pump capacity: 5 cars/h
Optional: patented feeding system for fresh oil and UV additive
Integrated fully automatic refrigerant analysis function
Fully automatic refrigerant recycling, oil and additive management
Automatic vacuum check
Automatic leak check prior to service start
Automatic charging of leak detection additive
Integrated refrigerant charging and recovery amount management
Integrated charging amount database
Complies with SAE J 2099, 2788 and 2843
Close to 100% refrigerant recovery
Personalised charging amount database
Operator guidance via large display
Heated charging cylinder for high-speed charging, heat-up also possible during the charging process
Special, 8-bearing weighing platform
Special air conditioner flush function
Large recessed tray for tools
Also suitable for German-make hybrid vehicles
Patented used oil container
Including adapter for non-returnable bottles 1/4" HD
Technical Specification
| | |
| --- | --- |
| Power Supply | 220/240 V – 50/60 Hz * |
| Suitable for refrigerant | R 1234yf |
| Purity of recovered refrigerant according to SAE J 2099 | yes |
| Refrigerant recovery rate in kg/h | 30 |
| Vacuum pump capacity | 5 cars/h |
| Performance of the hermetic compressor in kW | 0,32 |
| Dry filter capacity in kg | 150 |
| Refrigerant recycling rate | Close to 100 % |
| Can be used as diagnosis tool | yes |
| Charging cylinder/useful capacity (kg) | 15 |
| Charging amount indicated by | Display |
| Refrigerant analysis | integrated / automatic |
| Recovery/recycling | automatic |
| Purging of non-condensable gases | automatic / electronic |
| Purging of used oil | automatic |
| Evacuation | automatic |
| Vacuum check | automatic |
| Nitrogen leak check | no |
| Injection of leak detection additive | automatic |
| Injection of oil into the A/C system | automatic |
| Refrigerant charging | automatic |
| High/low pressure indicated by | Manometer |
| Vacuum indicated on | Display |
| Total process control via display | yes |
| Option to set the evacuation time | yes |
| Protocol print-out with printer | yes |
| USB connection for software- and database updates | no |
| Printer | yes |
| Service hoses (SAE standard), 3 m | yes |
| Service hoses (SAE standard), 8 m | no |
| Valve adapter for WAECO refrigerant bottles | yes |
| Operating instructions | yes |
| Adapter for 500 ml fresh oil and UV tracer dye bottle | yes |
| Used oil container (500 ml) | yes |
| Hermetically closed used oil container | no |
| Heated refrigerant tank / fluid pump (F) | yes / no |
| Dust cover | yes |
| Goggles / safety gloves | yes |
| Test bottles UV additive for approx. 10 applications | no |
| Bottle of fresh PAG oil ISO 46, 500 ml | no |
| Bottle of fresh PAG oil ISO 100, 500 ml | no |
| Bottle of fresh POE oil SE 55, 500 ml | no |
| Bottle of fresh PAG oil ND 12, 100 ml | yes |
| Dimensions (W x H x D, in mm) | 560 x 1300 x 650 |
| Weight (kg) | 110 |