Dama HDA322B Semi Automatic ATF Station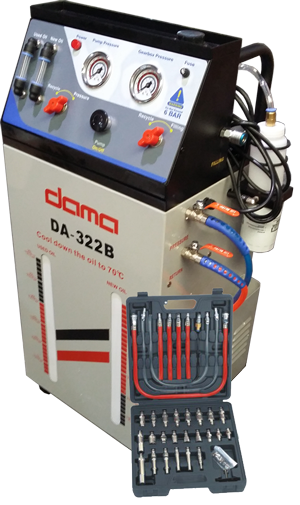 Dama HDA322B Semi Automatic ATF Station
The new Dama semi automatic transmission cleaning and fluid exchange machine offers excellent service at an amazingly low purchase price.
This ATF machine has the ability to flush, filter, clean and exchange the transmission oil by simply moving the control valves to the correct position and allowing the machine to circulate the replacement oil.
Powerful 70 -90 psi pressure
System pressure gauges
Large waste and fresh oil tanks with easy to see levels
Detergent container
Power supply 240v - 350w
Simple to operate control valves
Site glass in each line
External filter
Full operating manual
Standard Kit
The Dama ATF Station comes complete with connectors for:
VW
Toyota
Honda
Nissan
Mitsubishi
Lexus
Cadillac
Chrysler
Audi
Buick
Chevrolet
Ford
BMW
Plus a variety of universal connectors for many vehicles
Vehicle Specific Connector Kit
In addition to the standard connection kit we offer a range of vehicle specific connectors and connection blocks that enable easy fitting to the correct location.
Covers vehicles including
Audi, BMW, Mercedes, Honda, PSA, VW, Toyota, JLR, Mazda, Nissan.