Mahle FluidPRO ATX 190 Gearbox Oil Service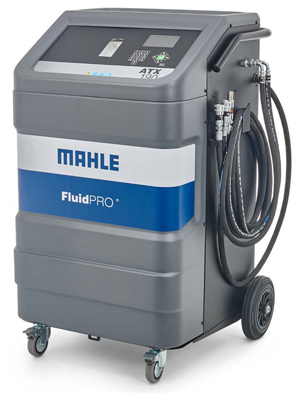 Mahle FluidPRO ATX 190 Gearbox Oil Service
According to the Mercedes-Benz service manual, the automatic transmission oil must be changed regularly. The MAHLE FluidPRO® ATX 190 meets all requirements and is developed for Mercedes-Benz and approved by Mercedes-Benz.
The rinsing of the gearbox as well as the replacement of the oil with the MAHLE FluidPRO® ATX 190 is therefore carried out for service operation:
exactly according to the process specified by Mercedes-Benz
fully automated
simple, clean and fast
With the right equipment, gearbox flushing is an easy task
Simple and intuitive operation guides you quickly and completely through the automatic service including step-by-step instructions through the manufacturer-specific cleaning process.
Comfortable gearbox flushing and complete oil replacement is carried out exactly according to Mercedes-Benz specifications.
The rinse only with oil - no use of additives.
Remote app supports productivity in the workshop.
Visualisation of the process steps directly on the device display or via app on your smartphone, whether you are in front of or in the vehicle.
Quick change of oil variety through replaceable oil canisters and ensuring oil grade purity through internal rinsing process (zero-cross).
Automatic detection and adaptation to flow direction.
Please Call Us on 01823 328531 for Prices
Technical Specification
| | |
| --- | --- |
| Control | Software-controlled with 4.1" color display and keypad |
| Rinse filter | MAHLE Filter for rinsing/cleaning and new oil supply |
| Sight glasses | Visual inspection of oil quality |
| Filter check | Permanent filter monitoring and indication of impending change |
| Zero-Cross | self-cleaning after oil grade change |
| Hoses | 2 x 3 m (service hoses), 1 x 2.5 m (for draining the waste oil) |
| Quick couplings | Direct connection to the orig. Mercedes-Benz rinsing adapter |
| Software Update | USB Type A (with USB 2.0 key) |
| Top grid | collected residual oil quantities are weighed |
| Oil pump | Oil pump 2 x hydraulic oil pumps of 10 l/min each; PWM - Pulse Width Modulated |
| Tool tray | Stable metal box for adapters, tools, etc. |
| Menu languages | DE, EN, IT, FR, ES, PL, PT, RU, SR, BG, CS, EL, FI, HU, NL |
| Power supply | 110/230 V, 50-60Hz |
| Service | USB Typ B (Direct PC Connection) |
| Smartphone App | FluidPRO® ATX Remote Viewer |
| Dimensions/ weight (H X B X T) | 121 x 74 x 74 cm, 75 kg |