Texa Axone 4 Mini Car & Light Commercial Package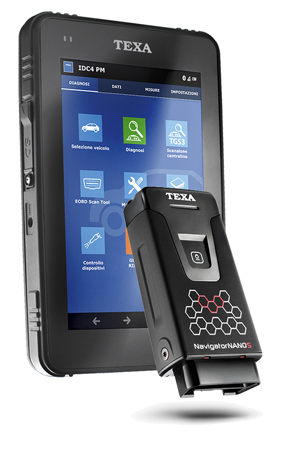 Texa Axone 4 Mini Car & Light Commercial Package
The Car Mini specialist package comes with the Navigator Nano interface which in turn communicates to the Axone 4 Mini via Bluetooth.
The Axone 4 Mini has a 7" touch screen, robust and proven history which when used with the Texa IDC5 software to give a modern feel and easily navigated software platform.
Package Contents
Axone 4 Mini Car Including IDC5 PM Car software
Navigator Nano S
Storage case
1st Year's Annual Car Texpack
Texa Navigator Nano S
Navigator Nano S is the most advanced wireless device for cars and light commercial vehicles fitted with OBD sockets. The advanced miniaturisation techniques used have allowed TEXA to reduce the tool size and weight by more than 85%, compared with a traditional solution, whilst leaving depth of the diagnosis potential unchanged.
The Navigator Nano S belongs to a new generation of devices characterised by three key elements:
Reduced dimensions: increased practicality due to reduced size and ergonomic form, the Navigator nano plugs directly into the 16 pin diagnosis socket
Wireless: providing Bluetooth communication to the Handheld or PC display with power from the diagnostic socket, the technician can work freely around the vehicle
Self-diagnosis for cars and light commercials: the TEXA IDC5 operating software provides diagnosis software and information for a comprehensive range of vehicles and systems
The Navigator nano has been developed according to the TEXA philosophy of two-unit diagnosis, to provide practical and versatile solutions, and can be used with a range of TEXA display units including AXONE 4 & AXONE MINI. These characteristics allow the technician to gain the maximum benefit from their diagnostic tools, reducing the time required to complete the repair process.
The Navigator nano operates in conjunction with IDC4 software, the TEXA operating platform that combines diagnosis potential with a database of supporting information. The technician in fact has a whole range of additional information at his disposal, such as wiring diagrams, technical data sheets, component sheets and bulletins, specifying the correct procedures to assist in repair the most common failures.
If the workshop has an internet connection, it can access the "Solved problems" search functions powered by Google and the TGS2 vehicle system scan.
Technical Specification
Processor
CORTEX M3 STM32F103 72MHz
Memory
External SRAM: 8 MBit organised in 512 K x 16 bit
External NAND flash memory: 2 Gbit on 8 bit bus
Internal Battery
Lithium polymer, single cell, 3.7 V 250 mA/h
Vehicle Electrics
12 VDC vehicle systems
External Power Supply
8 ÷ 16 V
Wired Connection
Virtual RS232 via USB 2.0 device
Wireless Connection
Bluetooth Class1
Electronic Switching
2 way, 13 independent positions
Diagnostics Connector
OBD
Environmental
Operating temperature
0 ÷ 50 °C
Storage temperature
-20 ÷ 60 °C
Operating relative humidity
10% ÷ 80% non-condensing
Dimensions
51x23x100 mm
Weight
72 g
Protocols Supported
Blink codes, K, L (with 60mA current protection) ISO 9141-2, ISO 14230, CAN ISO 11898-2, CAN ISO 11898-3, SAE J1850 PWM and VPW
Standards
Directive: 1999/5/EC
Safety: EN 60950-1
Electromagnetic Compatibility: EN 301 489-1, EN 301 489-17
Radio systems: EN 300 328-2
Texa Nano S PC Pack Car & Light Commercial
The Nano PC Package enables customers to use their existing PC or laptop instead of the Axone Mini or Axone Nemo to control the IDC5 software.
Package Contents
Navigator Nano S
IDC5 plus car software for PC
OBD extension cable
Storage case