Volvo VIDA / DICE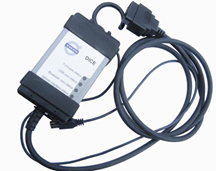 Volvo VIDA / DICE
This is the latest Volvo tool, covering all Volvo brands.
Notes
Volvo is the most difficult OE tool to set up
When laptop purchased, we will carry out basic registration if customer provides details such as passport number, website URL, VAT registration details company house registration etc
Partner ID is needed to buy software updates, customer needs to contact their local Volvo dealer to arrange a partner ID
1 year's subscription currently £3955 paid direct to Volvo
Average software prices are £30-£50
DOIP adapter for later vehicles 2016 approximately £50 option
Credit needed to set up laptop, paid direct to us
We will set up laptop before sending to the customer
Volvo requires tech support due to regular software updates/changes requiring laptop updates through our tech support.
Package Deal
Purchase the Volvo VIDA in a package with the following:
"Proactively supported" refurbished Getac S400 laptop *
1 months product support
* Laptop is a re-furbished Getac S400 laptop with a program that allows it to be remotely supported and monitored. Min spec is 250HDD 4GB Ram i5 processor. If our laptop is purchased and is kept in tech support contract for 2 years, we will replace the laptop FOC after 2 years use. Tech support is hardware and software support, not vehicle tech support.
Product Support
We are able to offer a Guaranteed Genuine Equipment Product Support Service for the above product.
1 HOUR Support
Sign-on Fee
Alternatively if you already have a genuine interface and want our high quality product support, after paying the sign-on fee you can benefit from the same high quality product support.