Teleco Mobile Satellite TV Systems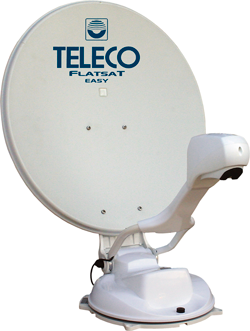 Teleco Mobile Satellite TV Systems
We are proud to be dealers for the leading supplier of mobile satellite TV systems, Teleco.
The Teleco FlatSat system is a fully Automatic Satellite System designed for Motorhomes, Caravans and Special Vehicles. It comes with a choice of 85cm, 65cm or 50cm dish, and will suit any satellite receiver (not supplied).
The FlatSat Easy is pre-programmed to search for 7 different satellite groupings, Astra 19, Thor, Astra 4, Eutelsat 5W, Hot Bird, Astra 23, and Astra 28 (where most UK channels are found) at a push of a button. The FlatSat system is operated through a wall mounted control panel that is simple to use with only 3 keys.
SAT key: Selects the satellite and starts the search
Antenna lowering key
ON/OFF keyTo be connected to the control unit via a 2 m long cable
The FlatSat Easy usually takes up to 60 seconds to search and lock on to the selected Satellite grouping, this includes the minor adjustments it makes to ensure you get the maximum signal strength and thus the best possible picture. Like other Teleco Automatic systems the FlatSat Easy is fitted with a safety system where the antenna will automatically close when you start the vehicle, preventing any potential mishaps. The FlatSat comes with a replaceable mounting plate, so should you choose to change your vehicle, you do not need to completely replace your system.
Features
Flat Sat Easy! slim and low profile when not in use/ travelling "Flat Profile 15-17cm"
Wall Mounted control Panel
Can be coupled to any Satellite Receiver (not supplied)
Stores all the most important Satellites, ASTRA23, Hot Bird, Astra19, Eutelsat 5W, Astra 4, Thor
Safety feature closes the antenna automatically when the engine is started.
Available with single or twin LNB
Skew versions available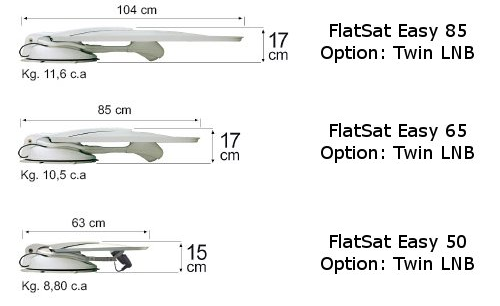 Satellite Coverage Footprint
The image below left shows the reception for Free to Air satellite receivers, using a 45cm or 60cm satellite dish.
The image below right shows coverage for Sky TV satellite receivers, using:
50cm dish - covering the yellow area
60cm dish - covering the yellow and blue areas
85cm dish - covering the yellow, blue and red areas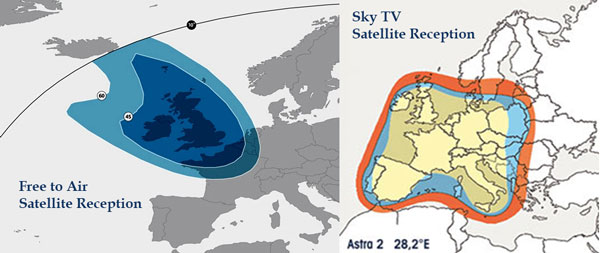 Contact Us
For more information and pricing, please call our service reception on 01823 328600.