Brain Bee Emission Analysers
Brain Bee Emission Analysers - Everything Under Control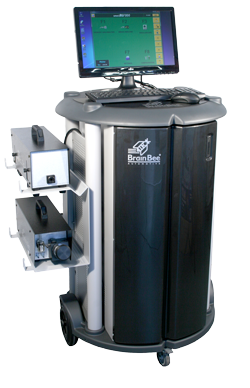 The Brain Bee Omni 800 range of emission analysers brings premium quality products together with cutting edge technology and user friendly features, to create a high quality emission package with a proven track record.
The Omni 800 range offers combined petrol and diesel emission testing to the highest standard and surpasses all UK MOT requirements, plus adds many features that ensures the Omni 800 leads the market in technology and user friendliness.
The Omni 800 is offered in three different configurations
The Omni 800
The Omni 800 Blue
The Omni 800 Modular
All three versions offer outstanding features and performance but enable customers to choose the best match to their requirements. The Omni 800 range can also be further expanded with some useful optional accessories.
2 Years Warranty on the Full Omni 800 Range of Emission Analysers
The success and reliability of the Omni 800 range is built on three essential components, the AGS200 Gas bench, The OPA100 smoke chamber and the MGT300EVO Bluetooth/RF RPM module. These market leading components are used by many emission analyser manufacturers in the UK and renowned as the leading products in their field. As a result Brain Bee confidently offer 2 years warranty on all emission stations.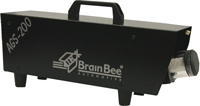 AGS-200 Gas Analyser
The AGS-200 Gas bench is an integral and important part of the Brain Bee Omni 800 emission analyser. The speed and accuracy of the analyser sets it head and shoulders above the competition offering robust, reliable and proven measurements.
DVSA approved for MOT testing
OIML Class O approved
Accurately measures CO, CO2, HC, O2, Lambda
Protective internal filters for gas/water
Automatic flow control & zeroing system
Rapid heating times for quick testing
Wireless comms of RPM & temp from MGT-300EVO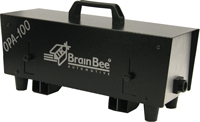 OPA-100 Diesel Smoke Meter
The OPA-100 diesel smoke metering unit adds to the total quality of the Omni 800 emission analyser. This high spec market leading module gives fast and accurate measurement of the smoke opacity by rapid chamber heating and fast pass technology.
DVSA approved for MOT testing
Type approved to latest specifications
Accurately measures opacity of smoke
Automatic glass cleaning system
Wireless comms of RPM & temp from MGT-300EVO
Fast pass system for rapid testing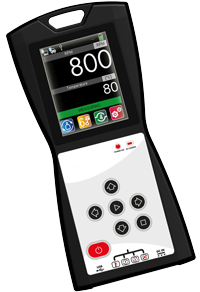 MGT-300EVO
The MGT-300EVO universal RPM counter and temperature systems typifies the technological level of the Brain Bee Omni 800 emission analyser. This market leading tool connects to the vehicle and communicates the results via RF or Bluetooth to the AGS200 & OPA100, completely cable free. Furthermore the MGT-300EVO can identify and isolate background noises in the workshop, optimising the accuracy of the values recorded.
Cable free communication from vehicle
Bluetooth or RF communication options
Identifies and isolates background noise
Oil temperature via dipstick probe
RPM via engine acceleration sensor
RPM via battery
Omni 800 Packages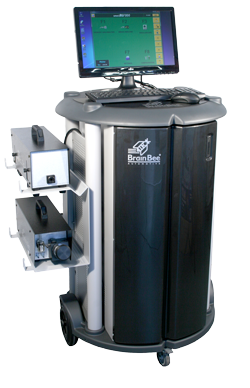 Brain Bee Omni 800
The Omni 800 offers a high quality, user friendly emission analyser with a robust and stylish design. The cabinet has useful internal storage and houses the Windows mini PC and power supply. The top quality Gas and Diesel analysers secure neatly on the side of the cabinet with long cables and hoses. The large 19" LCD colour monitor displays the clear screen shots and enables the test to be complete quickly and accurately.
Combined Gas & Smoke analyser
DVSA MOT approved
PC based Windows 7 operating system
High quality, easy to follow graphics
19" LCD LED colour monitor
Brother high spec laser printer
Fast warm up and measuring time
Fast pass and Bets test configured
Cable free RPM & Temp readings via MGT-300EVO
Stylish cabinet with enclosed storage
Proven track record in the UK
Only £4495.00 + VAT
Lease From £24.38 Per Week

Click Here for Details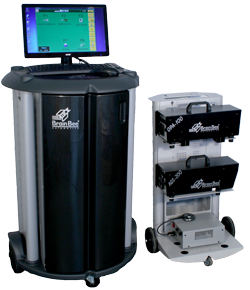 Brain Bee Omni 800 Blue
The Omni 800 Blue has all the great features of the Omni 800 emission analyser above. However in the Omni 800Blue version the gas & diesel monitoring heads and the power supply are mounted on an additional trolley which has Bluetooth communication and is cablefree from the main cabinet, enabling it to be moved freely around the workshop.
This cutting edge design means the gas & smoke heads and the engine RPM & temperature are all communicated cablefree, leaving the workshops clear of cables and trip hazards.
All features of the Omni 800
Mobile gas & smoke head trolley
Cablefree Bluetooth communication
No trip hazards in the workshops
Mobile trolley can be outside or long distances away
Full flexibility of location of equipment
Only £4995.00 + VAT
Lease From £27.09 Per Week

Click Here for Details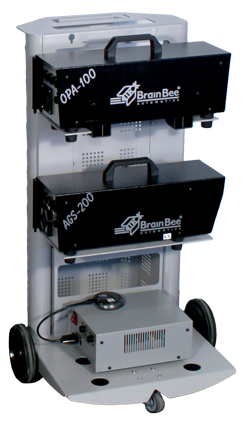 Brain Bee Omni 800 Modular
The Omni 800 Modular brings a new and modern integrated emission analyser concept to your MOT bay. With the increased computerisation of the MOT bay we can now integrate the emission analyser into the computerisation of the roller brake tester and combine the display of information onto a single point. This cost effective method enables multiple computer packages to be avoided and a modern integrated appearance made possible.
All you require is the mobile trolley with the Gas & Smoke monitoring heads, which will communicate via Bluetooth with the emission software incorporated in the Roller bake tester computer, therefore alleviating the need for a large trolley and emission PC.
Modern integrated MOT bay design
Single information display centre
Mobile trolley with gas & smoke heads
Software via Roller brake tester computer
Bluetooth communication to trolley
Space saving configuration
Only £3895.00 + VAT
Lease From £21.12 Per Week

Click Here for Details
Optional Accessories
A range of optional accessories are available for the Omni800 range of emission analysers which are developed to enhance the total package to an ultimate level.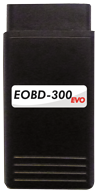 EOBD Module
With this EOBD module it is possible to collect the engine RPM and oil temperature from the OBD diagnostic socket on many vehicles, this is an advantage on modern vehicles where engine RPM can be more difficult to locate an accurate signal. The module communicates via Bluetooth and therefore the only vehicle connections required to carry out a full test is the tailpipe nozzle, oil temperature probe and this EOBD module.
Battery Backup
(available for the Omni800 Blue and Modular)
With the battery back up power supply it is possible to operate the mobile trolley completely cable free of the mains power supply. This means the mobile trolley requires no connections at all and can be used in any part of the workshop or outside space. The internal battery can be charged overnight and the back up supply will power the trolley throughout the day.
Technical Specification
DVSA approved for MOT testing
OIML Class 0 approved
Gas measurement CO, CO2, HC, O2, NOX, Opacity
Measuring fields Lambda, revs, oil temp
Power supply 240 VAC / 12 VDC
Operating temperature 0 - 40 'C
Windows 7 Computer
19" LCD LED flat screen monitor
Brother A4 Laser colour printer
5 Year Plan
5 years calibrations, software updates and warranty. Excludes all consumable items (filters, hoses, leads, paper etc). Excludes accidental damage or damage from outside source (ie water ingress).
Calibration Charges
(Note that parts and consumables are not included in prices below)
Combined Emissions Analysers
Includes
1 x Petrol Calibration Visit per annum
1 x Petrol & Diesel Visit per annum
Petrol Only Analysers
2 visits are required per annum. Price below is for 2 visits.
Diesel Only Analysers
1 visit required per annum. Price below is for 1 visit.