Brain Bee Clima 1234HO Air Conditioning Station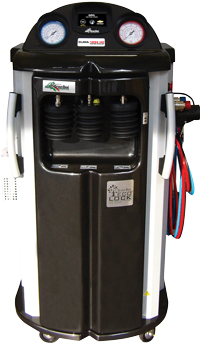 £4495.00 + VAT
Log in for Trade Prices
Brain Bee Clima 1234HO Air Conditioning Station
Brain Bee are one of the leading manufacturers of air conditioning equipment in the world. With their head office based in Parma, Italy, all their products are manufactured in Italy using high quality European components.
They offer top quality products with the latest patented technology which enables their products to achieve VDA approval and are the chosen air conditioning station for many vehicle manufacturers including Mercedes Benz, Vauxhall, Chevrolet, Audi, VW, Seat, Skoda, Toyota & Honda.
The Clima 1234HO is a special 1234 Air conditioning machine specifically designed and homoligated to meet the exacting standards of the vehicle manufacturers. This unit has acheived the highest standard of quality control and meets VDA compliant standards. The unit is therefore either recommended or mandated for many vehicle manufacturers.
Brain Bee have built on the success and outstanding features of the Clima 9000 range in developing the Clima 1234 Air con station for the latest 1234yf gas. This high quality, leading edge Ultra-matic 1234yf air conditioning stations includes all the necessary increased safety features required whilst including the many leading features including the added benefits of the patented VOLUMETRIC INJECTION, ECO LOCKS and LONG LIFE PUMP.
Fully Ultra-matic operation with multipass additional filtering
Highly manoeuvrable with triple wheel system
VDA compliant including TUV & PED
4.3" Colour LCD touch screen controls with quick steps
Built in printer with user configuration
Analogue gauges ensure full control & understanding Optional, Built in gas analyzer identifier to ensure complete gas purity
Large 26 ltr refrigerant tank with built in heater
Volumeteric injection soleniod ensures extreme accuracy (see below)
Electronic discharge of non condensable gases
Special bellow shaped 300ml air tight oil & UV bottles
UV dye system built in
Hybrid POE automatic system with extra 300ml bottle
Flush function built in
Forced ventilation of cabinet
4.3M3/h high performance vacuum pump with Patented Long life Pump System (see below)
9cc high spec, long life gas recovery compressor
3m high quality hoses with patented Eco Locks S
Whole Life Costs
When considering your air conditioning machine purchase, we believe there are a number of whole life costs that make the Brain Bee air conditioning station the most cost effective choice. Listed below are just three of the Brain Bee innovative and patented features that will save you considerable sums over the whole life of the machine.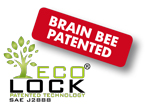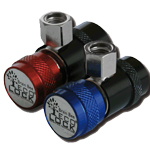 ECO LOCK
Eco Lock is a patented feature of your Brain Bee air conditioning station. Eco Lock has the ability to extract the air or gas held in the high and low port connection valve. With this feature the traditional "puff" of gas lost to atmosphere when removing the valves does not occur.
This has the added benefits of saving 2 grams of gas with each connection to a car. R134 has a cost of approx £15 per 1000 grams.If you were to service, on average, 4 vehicles per day for 5 years that would equal 4 vehicles per day X 2 grams X 1250 days (5 years) = 10,000 grams.
Total saving using ECO LOCK® over 5 Years - £150.00
In the future, as R134 becomes less popular, the price per 1000 grams is likely to significantly increase, therefore increasing your savings.
Volumetric Injector System
This is another technology that is a patented feature of your Brain Bee air conditioning station. This allows total control over your costs by accurately measuring the gas at the point of entry into the vehicle. This ensures an accurate and cost effective management of the very expensive R1234 gas.
Other competitor's machines state that they can be accurate to within 15 grams in laboratory conditions as required by the VDA certification; in workshop conditions this cannot be controlled or confirmed. However with a Brain Bee the charge is accurate to within 10 grams and this is maintained in workshop conditions with the use of the patented Volumetric injector system.
This means that a competitor's machines could be undercharging or overcharging each vehicle with more than 15 grams of very expensive R1234 gas. Using Brain Bees Volumetric Injector System you can be sure that the charge rate applied to a vehicle is accurate to + or - 10 Gram. 5 grams of R1234yf has a value of £0.75 Using the same 4 vehicles per day over 5 years = 25,000 grams.
Potential loss of revenue / cost over 5 Years - £3750.00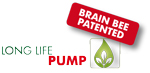 Long Life Pump
The Brain Bee air conditioning machines are all installed with the latest technology long life pumps. This innovative design enables the pump to check and clean the lubrication oil held within the pump after every 60 hours of use. By carrying out this self clean process the oil does not need replacement until 1000 hours of use.
Compare this to other machines where the compressor oil needs replacing, often at less than 100 hours and you will see instant cost benefits and reduced down time.Assuming it takes an engineer 15 minutes to drain and refill the pump and the capacity of the pump is 250 ml.
Assuming the labour cost is £60 per hour and the cost of the oil is £26.50 per litre. When a Brain Bee machine reaches its 1st service at 6000 hrs it will take £15 labour and £6.63 of oil. Total cost £21.63.
A competitors machine would have had 60 services within this time, equalling 15 hours of time you are unable to use your machine and a servicing cost of 60 X £21.63 = £1,297.80
Total saving of Long Life Pump. 59 oil changes @ £21.63 = £1267.17 (plus 15hrs of usage)
Whole Life Costs
Therefore choosing a Brain Bee Air Conditioning Station could save you a significant amount when compared against a competitors unit.