Mr Li 2 in 1 Pick / Decoders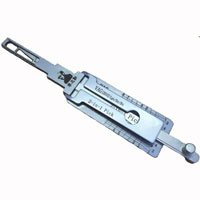 Mr Li 2 in 1 Pick / Decoders
This is the latest range of Mr Li tools, enabling users to both pick the lock and decode the lock.
Exclusive Range
Anti Glare Range
Lishi Door Vice
A very useful tool that clamps individual vehicle locks to your work bench, enabling them to be stripped ad rebuilt.
This vice is also very useful for clamping vehicle locks to enable lock picking training.
Lishi Cutter
This fantastic tool will enable you to cut a temporary auto key using the make up keys supplied with the Decoders. So decode the lock and then cut a temporary key. The Lishi key cutter will also cut standard Euro cylinder and rim cylinder keys.