Mr Li 2 in 1 Pick / Decoders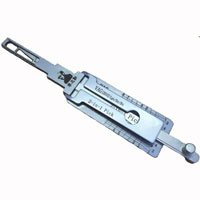 Mr Li 2 in 1 Pick / Decoders
This is the latest range of Mr Li tools, enabling users to both pick the lock and decode the lock.
Exclusive Range
Anti Glare Range
Special Vehicle Opening Pack
Includes :
12 x Mr Li Pick Decoders
1 x Ford Tibbe Pick
1 x Complete Users Guide & Training Manual Kit
1 x Storage Wallet
Covers :
Vauxhall
Chevrolet
Ford
Land Rover
Jaguar
Volvo
BMW
Mercedes
VW
Audi
Seat
Skoda
Citroen
Peugeot
MG
Honda
Subaru
Renault
Toyota
Alfa Romeo
Fiat
Kit Parts :
HU66
HU66/3
HU100
HU101
HU92
HU64
HU58
SIP22
NE72
VA2T
HU83
HON66
PFTPD
Training Kit
Special Offer
Normal Price £754.00
Only £599.00 + VAT
Anti-Glare Range
VA6 for Citroen, Peugeot and Renault
VAG2015 9 Cut for VW
VAG2015 9 Cut / Side Cut for VW
VAG2015 10 Cut / Side Cut for VW
Lishi Door Vice
A very useful tool that clamps individual vehicle locks to your work bench, enabling them to be stripped ad rebuilt.
This vice is also very useful for clamping vehicle locks to enable lock picking training.
Lishi Cutter
This fantastic tool will enable you to cut a temporary auto key using the make up keys supplied with the Decoders. So decode the lock and then cut a temporary key. The Lishi key cutter will also cut standard Euro cylinder and rim cylinder keys.