PicoScope 2-Channel Starter Kit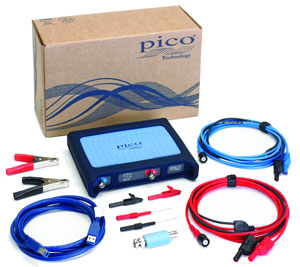 PicoScope 2-Channel Starter Kit
The 2–Channel Starter Kit gives you the lowest possible cost entry into PicoScope ownership.
The kit comes complete with a basic set of leads and clips to allow you to perform many common tasks including testing most sensors, relative compression and cylinder balance tests. Over time accessories such as current clamps and ignition probes can be added to expand its uses and convert a starter kit into a standard kit.
With this kit you can measure and record up to two signals at once. If you want to measure and record up to four signals simultaneously then you need the 4–Channel Starter Kit.
* LAPTOP NOT INCLUDED *
The 2 Channel Starter Kit (PP920) contains:
| | |
| --- | --- |
| PicoScope 4225 | 1 |
| Channels | 2 |
| Accuracy | +/- 1% |
| Memory | 250 M samples |
| Maximum sampling rate | 400 MS/s |
| Premium test leads | 2 |
| Flexible Backpinning Probe (Black) | 1 |
| Flexible Backpinning Probe (Red) | 1 |
| Small crocodile / gator clip (Black) | 1 |
| Small crocodile / gator clip (Red) | 1 |
| Battery Clip (Red) | 1 |
| Battery Clip (Black) | 1 |
| Automotive software CD-ROM | 1 |
| Training resources DVD | 1 |
| Automotive Quick Start Guide | 1 |
| USB3 cable (1.8M) | 1 |