Smoke Pro Air Complete Diagnostic Smoke Machine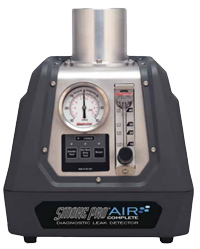 Smoke Pro Air Complete Diagnostic Smoke Machine 
Simply the most technologically advanced smoke machine, the Smoke Pro Air Complete comes with its own onboard micro air compressor, eliminating the need for air lines or gas tanks. Whether a repair job is across the service bay or across town, Air Complete lets you go where the work is!
Portability Performance Profitability: Air Complete is the Complete Diagnostic Solution
Like an old-fashioned telephone, some smoke machines don't let you get far. Smoke Pro® Air Complete cuts the cord and allows you to go where the work is. No other machine can find more repair jobs. By drastically reducing diagnostic time, Air Complete saves time and makes more money.
Onboard Micro Air Compressor
By eliminating the need for shop air or an inert gas tank, technicians can quickly diagnose, locate, and repair leaks whether the repair job is across the service bay or across town.
Variable Flow Control
While Air Complete can detect leaks as tiny as 0.010" in any sealed system, the Air Complete helps you pinpoint leaks fast by manipulating the smoke output.
Pressure Decay Testing
Air Complete improves the accuracy of repairs and eliminates comebacks by verifying that leaks are repaired completely.
Compact, Lightweight Design
At 11 lbs., Air Complete is ultra-portable and lets technicians go where the work is. Air Complete™ is perfect for mobile repairs, testing vehicles in the field, and fleet repairs.
Technical Specification
EVAP Weight 11 lbs.
Shipping Weight 19 lbs.
Dimensions 8 x 10 x 13 in.
Operating Modes Air-Only Test Cycle Smoke Test Cycle
Operating Temperature 30°F to 140°F (-1°C to 60°C)
Operating Humidity No Limit
Operating Altitude No Limit
Minimum Leak Detection 0.010"
Smoke Chamber Assembly Bolted
Smoke Chamber Warranty Lifetime
Internal Pressure Supply Onboard Micro Air Compressor
External Pressure Supply Compressed Air Supply