Bosch BAT645 and BAT690 Battery Chargers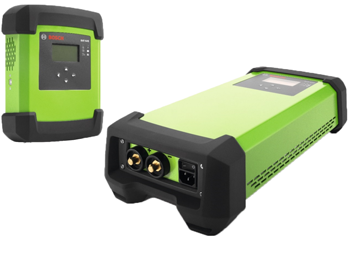 Bosch BAT645 and BAT690 Battery Chargers
By means of the new BAT645 and BAT690 battery chargers, Bosch offers automotive workshops two universally applicable professional devices featuring 45 or 90 ampere of continuous current output. Automatically detecting the required nominal voltage, both chargers can be used for 12-volt car batteries and 24-volt commercial vehicle batteries alike.
As additional modes of operations, BAT 645 and BAT 690 feature both a back-up and a buffer mode. At the back-up mode, the device ensures the vehicle's power supply in case the starter battery has been removed. The buffer mode, on the other hand, is of increasing importance in everyday workshop life. In this case, the battery charger supports the on-board power supply, for instance, in case of control unit updates.
The new battery chargers are equipped with a USB port easing software updates. This allows, for instance, uploading characteristics for innovative types of batteries – thus keeping the devices up to date at any time. In addition, a WiFi connection is planned for BAT 690 in order to enable its future integration into workshop networks.
Product Features
45 A or 90 A – universal battery chargers for all lead ac-id battery types (standard, maintenance-free, gel, fleece, AGM, EFB) and new Li-Ion – Lithium Iron Phosphate (LFP)
12 V / 24 V for cars and trucks with automatic selection
Fully automatic charging characteristics – Universal for all battery types (UNI) and specific characteristics for WET, AGM, GEL, EFB and LFP and soft charging phase for deeply discharged batteries (automatic)
Backup mode – maintains current supply to buffer data (e.g. car stereos, supply and control units, etc.) during battery replacement
Floating mode – keeps SOC of the battery and stabilizes vehicle electrical systems (engine is off)
HMI with a dot matrix display – 18 languages, symbol for charging level indication to know the SOC before and after charging
Electronic protection management system
USB port for SW updates
Exchangeable charging and power cord cables
Charger holder for wall mounting
Bosch BAT645
Bosch BAT690
Technical Data
| | BAT 645 | BAT 690 |
| --- | --- | --- |
| Max. Charge current intensity - 12V - 24V | 45 A 22,5 A | 90 A 45 A |
| Length of the charging cable | 2 x 3 m | 2 x 3 m |
| Cross-section charging cable | 6 mm² | 16 mm² |
| Power input | Max. 800 W | Max. 1600 W |
| Weight (without charging and power cable) | 3,7 kg | 6,6 kg |
| Charging characteristic | I1U1I2aI3aI3... | I1U1I2aI3aI3... |
| Backup mode | 12.0 V / 24.0 V max. 20 A | 12.0 V / 24.0 V max. 30 A |
| Floating-mode operation | 13.0 V / 26.0 V max. 45 A / 22,5 A | 13.0 V / 26.0 V max. 90 A / 45 A |
| Function temperature range | -5°C – +45°C | -5°C – +45°C |
| Main voltage | 230 V, 50/60 Hz | 230 V, 50/60 Hz |
| Battery nominal voltage | 12 V / 24 V | 12 V / 24 V |
| Protection type (DIN 40050) | IP 20 D | IP 20 D |
| Safety class (DIN 40530) | SK I | SK I |
| Dimensions (W x H x D) | 220 x 115,5 x 296 mm | 220 x 115,5 x 473 mm |
| Emitted interference level (DIN 40839) | Class B | Class B |