GYSPACK Pro Jump Start Pack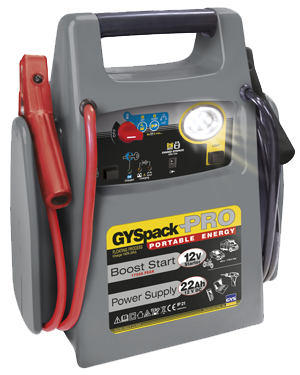 GYSPACK Pro Jump Start Pack
2 in 1 : Starter & Power Supply.
Instantaneous start
LED light
12V DC power supply
Self Contained Starter
GYSPACK PRO instantaneously starts cars, camper vans, vans, petrol or diesel (Peak current is 1750A).
Power Supply
The powerful integrated 22Ah battery turns the GYSPACK PRO into a very useful portable 12V power supply for many electrical devices: TV's, light, laptops, etc…
Integrated LED Light
Suitable for use at night or in low-light environments, the GYSPACK PRO incorporates a light comprised of 7 powerful LEDs (7x 3.6W).
Professional Machine
Automatic charger 230V /12V Floating: to charge the internal battery unsupervised. - Charge the battery up to 100%, maximising its life and efficiency. - Can be left permanently to the main (Gyspack has to be charged after each operation)
Integrated tester to check the level of charge of the internal battery
ON/OFF switch button, to avoid misuse
Alarm beep in case of reversed polarity
Copper cables 2 x 1.10m, ø 25mm² with isolated 500 A clamps