Other Picks and Decoders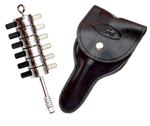 Tibbe Pick / Decoder
Premium quality tibbe pick and decoder set. Many locksmiths find this pick the easiest to use when opening Ford Tibbe locks. Once opened, the lock can be decoded using the simple scaling on the shaft.

Tibbe Pick Decoder
Safe Ventures top quality tibbe pick and decoder. The professionals choice.
Tibbe Pick Repair Kit
Repair kit for the above Tibbe Pick Decoder (hub and shaft replacement)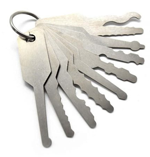 Auto Jiggler Keys
Auto Jiggler Keys are made from tempered stainless steel, which can help you opening your vehicle when you have accidentally locked yourself out; they are also ideal for those in the towing and repossession industries, car dealers and locksmiths. These jigglers keys do not require the use of a separate tension tool.
This 10-piece auto jiggler key set of car master keys are simple to use on many foreign and domestic vehicles. They are made for wafer locks, such as those used in vehicles and padlocks. Generally, auto jigglers depend on technique to work; with a little practice and trial-and-error, you will be able to learn to use them effectively. There are several videos available online that offer tips and tricks for their proper use. Auto jiggler keys will not work on locks that require a laser-cut key; they only work on wafer locks.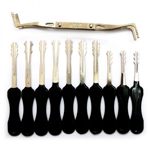 GOSO Wafer Picks (10 piece set)
GOSO Wafer Picks are suitable for opening double sided wafer locks. Made by GOSO, each pick has a special rake with comfortable handles, includes a double sided tension wrench. e.g filing cabinet, drawer & car locks.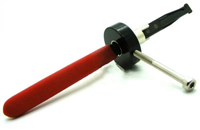 VAG HU66 Inner Groove Pick
Brought to you by HUK, the Classic HU66 Inner Groove Pick works using a 'fixed rake' on the picking end of the tool for quick entry into (VAG) Volkswagen Audi Group HU66 locks pre 2005.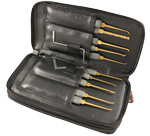 GOSO Pick Set
23 piece titanium pick set. 20 picks and 3 tension tools.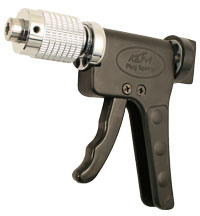 Plug Spinner Gun
The most commonly used plug spinner on the market. Heavy duty with a set of blades.

Red Tension Tool
Very durable, high quality tension tool for standard keys.
Only £10.95 + VAT
P/No. :
lishiredtensioner

Black Tension Tool
Very durable, high quality tension tool for Lazer keys.
Only £10.95 + VAT
P/No. :
lishiblacktensioner