Clearance Product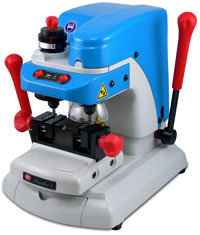 An-San Panther T
An-San Panther T key Cutting Machine
Used machine, in good working order complete with box.
The Panther T is a high quality key machine able to cut Tubular Keys with precision and simplicity with the added benefit of carrier locks to aid control or certain applications.
The Panther range of key cutting machines offer a high quality and robust design offering excellent precision and long term performance in even the busiest key cutting centres.
The ergonomic design and broad base gives the machine a stable operation and accurate. The most striking feature of this series of machines is the versatility and accuracy built into this machine that an only be matched by machines that a far more expensive.
Special Offer
Normal Price £995.00
Only £595.00 + VAT
P/No. :
usedansanpanthert