VAG Pincode Retrieval Tool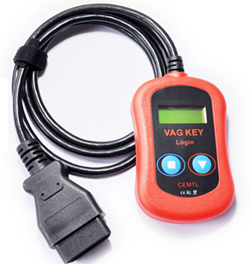 VAG Pincode Retrieval Tool
This device can be used to extract the security pincode from a large range VAG vehicles, and is therefore an ideal tool to compliment your key programming equipment.
Please note - WE DO NOT RECOMMEND PROGRAMMING KEYS WITH THIS TOOL
Simply connect the device to the OBD socket in the vehicle and it automatically detects the type of vehicle and displays the pincode. Using this device you can easily extract security codes (Pincodes) for vehicles from VAG - Volkswagen, Audi, Seat, Skoda, Porsche Cayenne and Bentley Continental.
The tool covers a large range of vehicles from the early K-Line to the latest version of immobilizer systems.
This pincode reader is ideal for locksmiths, garages, auto electricians and workshops that need to add keys, remotes, instrument clusters and other electronic components.
Models Covered
| Model | Year |
| --- | --- |
| Audi A4/S4/RS4 | All up to 2004 |
| Audi A6/S6/RS6 | All up to 2004 |
| Audi A8/S8 immobox | -1999 |
| Audi A8/S8 | 2002 up to now |
| Audi Allroad | all years |
| Audi TT | 2001 up to now |
| Audi Q7 | all years |
| Seat Alhambra | all years |
| Seat Altea | all years |
| Seat Altea XL | all years |
| Seat Arosa | all years |
| Seat Ibiza VDO | up to 2007 |
| Seat Leon | all years |
| Seat Toledo | all years |
| Skoda Octavia | all years |
| Skoda Octavia II | all years |
| Skoda Scout | all years |
| Skoda Praktik | all diesel vehicles and all benzin FSI vehicles |
| Skoda Roomster | all diesel vehicles and all benzin FSI vehicles |
| Skoda Fabia - A | 2007+ up to now (all diesel vehicles and all benzin FSI vehicles) |
| Skoda Fabia - B | up to 2006 |
| Skoda Superb | all years |
| VW Bora | all years |
| VW Caddy | all years |
| VW EOS | all years |
| VW Tiguan | all years |
| VW Individual | all years |
| VW Golf 4 | all years |
| VW Golf 5 | all years |
| VW Cross Golf | all years |
| VW Jetta | all years |
| VW Multivan/T5 | all years |
| VW Crafter | all years |
| VW Passat B4  | all years |
| VW Passat B5 | all years |
| VW Passat B6 - BOSCH | all years |
| VW Phaeton | all years |
| VW Polo A | 2007+ up to now (all diesel vehicles and all benzin FSI vehicles) |
| VW Polo B | 2007+ up to now (all diesel vehicles and all benzin FSI vehicles) |
| VW LT | 2000+ |
| VW Touareg | all years |
| VW Touaran | all years |
| VW Beetle | 2001+ |
| Bentley Continental | all years |
| Porsche Cayenne | all years (EXCEPT Siemens VDO) |