Bosch FSA500 Measurement Module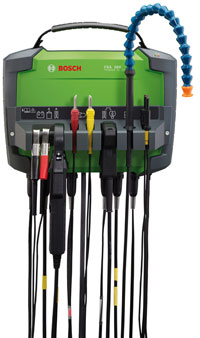 Vehicle system analysis FSA500 – A yardstick in innovative technology New! FSA500:
The measurement module for entry to diagnosis of the electrical system and electronics
The handy FSA500 from Bosch is the perfect entry into cost-effective vehicle system analysis. The battery-driven measurement module has a radio connection to the PC system. Its superiority is proved mainly in the convenient testing of all important electrical and electronic components. Many practical equipment details make it a safe investment in the future.
Equipped for cost-effective application
Compact, battery-driven measurement module with wireless connection to the PC system (tablet PC DCU 130, laptop)
Software for testing the most important electrical and electronic components in the vehicle
Timesaving testing of components when still installed
Around 30 preset component tests
Signal generator for simulation of sensor signals
Battery peak-coil current measurement up to 24 hours
Convenient universal oscilloscope with 2 channel (2 x 40 MS/s) and 4-channel mode (4 x 1 MS/s)
Test of vehicle bus systems (e.g. CAN bus)
Importing and saving comparative curves
Engine test functions
Ignition scope
Benefits to the workshop
Particularly favorable: Entry to convenient electronics testing
Cost-effective measurement module
Simple operation
Flexible handling on vehicle
Mobile use in the workshop
For all standard demands on electrical and electronics testing
Convenient display of actual values from ECU diagnostics in conjunction with KTS module
Can be extended by the FSA 050 for testing electric and hybrid vehicles
Minimum requirements of PC or notebook:
CPU Intel / AMD 1.8 GHz or higher
RAM 1 GB
DVD drive
At least 5 GB free hard-disk memory
1 USB port (2.0)
Operating system: -

Windows XP SP2
Windows Vista (32 bit) Home Premium / Business -
Windows 7 Home Premium / Professional (32/64 bit)
Simple entry to diagnostics - and all options open
The new measurement module is ideal for all workshops looking for an economic and convenient solution for all standard diagnostic cases. Designed for fast, mobile use in the workshop, the handy FSA500 provides all options for adapting to existing systems as well as the step-by-step expansion to a comprehensive workshop testing system.
DCU 130: Tablet PC suitable for the workshop
Systems in passenger cars and commercial vehicles. are becoming increasingly networked. This involves a great deal of data: Updates are important for the workshop – particularly if they contain information on new systems. But the hardware also has to keep pace in order to meet the requirements of the today's daily workshop operation.
The DCU 130 is the PC and operating unit for the FSA500 measurement module and the ECU diagnostics modules KTS 540, KTS 570 and KTS Truck. It can be used as an alternative to the laptop. The touchscreen ensures even more flexible and comfortable work.
Integrated component testing
Why testing is so fast: Preset test parameters
CAN data line, PWM-controlled lamps, wiring, pneumatic actuators and valves, PTC heater, voltage regulator / alternator, starter, intake air temperature probe NTC I, speed and reference mark sensor, throttle-valve potentiometer, coolant temperature probe NTC II, camshaft sensor, wheel-speed sensor, exhaust system (dynamic pressure measurement), catalytic converter, throttlevalve positioning motor, fuel injectors (gasoline), electric fuel pump (EKP), electric fuel pump relay, injector (CR), UIS unit, rail-pressure sensor, broadband sensor (lambda sensor), discrete level sensor, air-mass sensor analog up to HFM5, air-mass sensor digital as of HFM6, air-flow sensor, MAP sensor, intake manifold pressure sensor, glow plugs, ignition coil