ABS Sensor Pinpoint Tester
The quickest, most comprehensive Wheel Speed Sensor diagnostic tester available!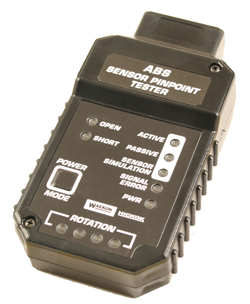 The ABS Sensor Pinpoint Tester is the quickest way to verify proper wheel speed sensor operation right from the service bay, no road test required. Simply connect the tester to the sensor and spin the wheel right in the service bay.
The parade of LEDs provide visual confirmation of signal output. The signal error LED indicates erratic or intermittent signal output. When used with a scan tool that provides wheel speed sensor data, the signal simulation feature simplifies pinpointing wire harness and ECU problems.
Works on all old and new style wheel speed sensors (passive and active)
Perform all pinpoint diagnostics right in the service bay - no road test required
Identify sensor shorts or opens
Visually verify sensor signal output
Signal simulation enables easy wire harness testing (i.e check ABS live data with a scan tool to see wheel speed at ecu)*scan tool required
Kit Contents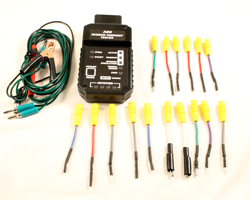 Main Unit
14 Male/Female Flex Probe Adapters
2 Alligator Clip Flex Probes
Test lead set (3 leads)