PWM Power Pro Tester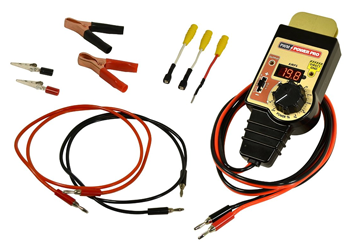 Power Pro is the only tester that's capable of accurately driving both DC and PWM components on today's complex vehicles
Save time & money by testing the component first!
Current diagnostic routines dictate time consuming circuit testing and NEVER test the component.
More and more of today's vehicles are using Pulse Width Modulated (PWM) motors, actuators and solenoids. You can't simply test them by directly applying 12 volts. This can cause expensive misdiagnosis. PWM Power Pro is the only tester that can adjust the output percentage from 0% –100% to effectively pinpoint the cause of the failure.
PWM Power Pro can drive:
Fuel Pumps
Cooling Fans
EGR / EVAP Solenoids
Drive-by-Wire Actuators
HVAC Blower Motors / Blend Doors
and much more!
Features and Benefits
Drive both PWM and DC components
Delivers 0 - 40 Amps
0 - 100% adjustable drive
Drive connected or disconnected components
Displays actual current draw
Simple to use and connect
Kit Contents
(1) Tester with 7ft cables
(2) 3ft. 40A Test Leads
(2) Battery Clips
(2) Alligator Clips
(2) Female Spade Probes
(1) Male Spade Probe
Specifications
Power Supply: 11 - 18 VDC
Over Temperature: Heat Sink > 120° F (output disabled)
Output Current: 0 - 40A (high side/low side drive)
Over Current: > 40A (output disabled)
Current Display: 0 - 40A (0.1A resolution)
Continuous On Time: 2 minutes@ 40 amps, 10 minutes @ 20 amps, PWM Rate: 15kHz 25 minutes @ 10amps, 30 minutes @ 5 amps
PWM Range: 0 - 100% duty