The Hook - Premiere Power Probe Device
The Hook - Premiere Power Probe Device
Diagnostics just got easier, smarter and more powerful.
Just touch the Hook's probe tip to the circuit and watch as it intelligently selects the correct Meter and Range for you! That's the Smart Tip Advantage!
The HOOK also features Power Probe's hot shot mode, allowing you to power on components at a moments notice!
Power Probe Hook is a fast and efficient electrical testing tool designed for the modern automotive technician. It works right along with you while testing electrical circuits by automatically switching to the appropriate tool.
When the Hook senses resistance, it displays ohms. When the Hook senses voltage it displays volts, and when you need power to a component, it's right there with you, ready to apply as much as 99 amps of current by pressing the power switch.
The bottom line: Spend less time diagnosing and more time getting paid.
Why the Hook?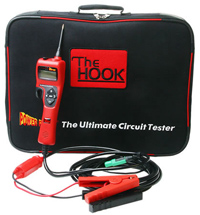 For those familiar with the blazing speed of Power Probe circuit testers, you will find the addition of the Power Probe Hook, not only a compliment to your electrical diagnostic arsenal, but a smart decision as well. Power Probe engineers designed the hook to help you fix cars with pinpoint accuracy. Why should you own the Hook? Three reasons: it's Easy, it's Smart and it's more Powerful.
It's Easy...
Its large LCD screen shows 2 lines of data that makes it easy to read. Connecting to any circuit is very easy using the standard 4mm banana jack that connects to all of Power Probe's leads and accessories. Connecting to a battery with its 20 ft. lead makes it easy to test the vehicle from front to rear without constantly looking for a ground hookup.
It's Smart...
When connecting to the probe tip to measure resistance it automatically becomes an instant ohmmeter and auto ranges without manually selecting it. It measures ohms from 0 to 15 Meg ohms.
When connecting the probe tip to measure voltage it automatically becomes an instant voltmeter and auto ranges without manually selecting it. It measures from 0 to 99.9 volts.
When connecting the probe tip to an AC voltage it automatically becomes an instant AC voltmeter along with the measured frequency. It measures from 0 to 99.9 volts and beyond 250KHz... With the HOOK managing all meter adjustments you stay focused on the task at hand.
It's Powerful...
The Power Probe Hook delivers more power. It activates motors and components up to 100 amps inrush and can power 25 amps to a circuit continuously. Not only does it supply battery power to components, but also displays the current draw in amps and resistance in ohms. You can determine if motors are sticking or are in the beginning stages of going bad by capturing and displaying maximum inrush current. Just power up the component and read the display. The Hook is used by serious, no-nonsense technicians that just need to fix vehicles faster.
Features
HOT SHOT MODE - Load tests power and ground connections and gives you a quick pass or fail result.
ADJUSTABLE CIRCUIT BREAKER - Can be adjusted and set from 2 amps to 65 amps. This feature lets you work in sensitive circuits to heavy loads with confidence.
VOLTAGE REFERENCE SUPPLY MODE - Supplies from 0 to 5 volts in half volt increments to the probe tip. This feature can provide a known reference (that is good) voltage to simulate sensors. It's a great compliment to your OBD scanner. The display shows both the set voltage and the tip voltage, so you can see if there is a short in the circuit.
POWER SWITCH PREFERENCES - Lets you supply constant power (no more holding the button down), pulse power or momentary power into the circuit you are testing. Maintaining continuous power on a circuit without needing to hold your finger on the power switch is one of the many advantages you will experience by using the Power Probe Hook's latching feature. It's great for testing circuit loads and voltage drop tests. Finding a buried or hidden component can be very time consuming. The Hook's power switch can be set to pulse a components circuit on and off while you devote your attention to searching it out.
THE DUAL CONTINUITY TESTER - Will allow you to test multi-pole relay contacts while you simultaneously measure the coil resistance.
You can easily master the power features of the MIN/MAX for Voltage, Current and Resistance measurements that will enhance your diagnostic ability. We didn't stop there because measuring Peak-Peak Voltage, Frequency, Positive and Negative Pulse Width and Duty Cycle are all part of a thorough electrical diagnostic tool. Now let's draw your attention to the hook shaped housing. It is the perfect shape for hooking it to hoses, wires, brackets or bolts so it stays put and won't slip off the fender. Bottom line: You will fix more cars easier, smarter and more powerfully by using the Power Probe Hook.
Specification
Min Operating Voltage: 12 VDC
Max Operating Voltage: 48 VDC
Max Operating Temp: 50°C
Max Storage Temp: 70°C
Voltage Measurement: 0 - 99.9 VDC/VAC
Ohms Measurement: .001 Ohms - 15 Meg Ohms
Amps Measurement: .001 Amps - 99.9 Amps
Max Continuous Load: 25 Amps
Max Intermittent Load: 65 Amps for 8 Sec.
Hook Up Cables: 10 Gauge
Videos