The Book of Auto Locks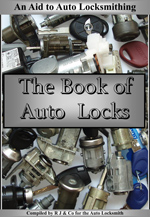 The Book of Auto Locks
This fantastic book has been written by an experienced locksmith, providing detailed information on vehicle locks.
The book features exploded views of locks, with detailed explanations and tips on lock removal, stripping, decoding, rebuilding and repairing locks.
Featuring laminated pages in a sturdy binder, this fantastic publication can be added to with ease, thanks to the regularly published updates available from the author.
Currently containing over 100 pages of information, this auto locks 'bible' will become an essential tool in your locksmithing arsenal.
Information currently contained includes :
Audi A3 c1998
Audi 80 c1994
BMW - Stripping ignitions
BMW Mini c2001-2006
Chevrolet Lacetti c2004
Fiat Punto c1995
Ford - 8 pages of Tibbe
Ford Fiesta c2009
Ford Chubb Ava c1991
Ford C-Max c2003
Honda Jazz
Hyundai Getz c2003
Iveco Eurocargo
Jaguar - Various models c1994-1997
Jaguar S Type
Jaguar boot lock c1990-1993
Kia Picanto
LDV Chubb Ava
Lexus - Decoding door locks
Mazda MX5 c2000
Mazda MX5 c2006
Mitsubishi Shogun c2004
Nissan Aventura c2006
Peugeot 307
Peugeot 406
Renault Laguna c1994-2000
Renault key cards
Rover - Various ignitions
Rover 75
Saab 9000
Suzuki Liana c2004
Toyota Aygo
Toyota Carolla c2005
Toyota ignition plug removal on VA2 key
Toyota Avensis
Vauxhall 8 pages on early lock sets
Vauxhall Sigma c2007
Vauxhall Vivaro c2007
Volvo S80 c2002
VW Beetle c2003
VW Golf c2007
More information will be added continuously.