EOBD Socket Location Information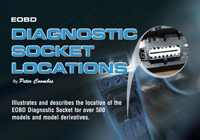 EOBD Socket Location Book
The EOBD diagnostic socket location manual has been produced to provide quick access to a large number of EOBD (16 terminal) diagnostic socket locations, using both photographs and line drawings for each vehicle.
For a number of years, many vehicles have been equipped with the standard 16 terminal EOBD diagnostic socket. In fact, European legislation made it mandatory over the period of 2000 to 2001 (petrol engine vehicles) and 1st January 2004 (diesel engine vehicles) that vehicles sold in the European union should be fitted with a standard EOBD diagnostic socket, and that socket should be located within reach of the driver's seat.
The problem is that vehicle manufacturers often hide this EOBD socket behind panels on the dashboard, making them very difficult to locate.
Importantly, the book identifies the model of vehicle and EOBD diagnostic socket location by supplying both a photograph of the cockpit area and also a simple line drawing. The photograph is useful not only to identify the general location of the EOBD diagnostic socket, but also to recognise the model version of the vehicle.
The EOBD Socket Location Book gives you a quick, easy reference to the location of EOBD sockets on more than 500 vehicle models, saving you time and money.
Covers more than 500 model ranges
Over 250 pages of useful information
Covers Alfa, Audi, BMW, Chevrolet, Chrysler, Citroen, Fiat, Ford, Honda, Hyundai, Isuzu, Jaguar, Jeep, Kia, Land Rover, Mazda, Mercedes/Smart, Mitsubishi, Nissan, Peugeot, Proton, Renault, Rover/MG, SAAB, Seat, Skoda, Subaru, Suzuki, Toyota, Vauxhall, VW & Volvo
Example Page