Bosch Car Camera Calibration Package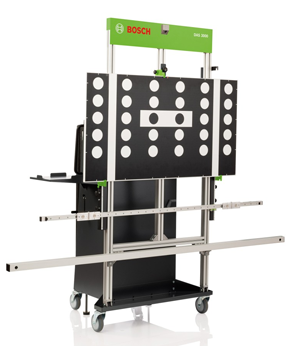 Bosch Radar and Camera Calibration Package
ADAS (Advanced Driver Assistance Systems) is now fitted to not only high end vehicles but small city vehicles, as well modern everyday saloons and hatchbacks. The technology is fast evolving in the form of Adaptive Cruise Control, Lane Departure Warning, Automatic Emergency Breaking and many more. However, these systems often now need to be calibrated by means of static target boards, alignment lasers and dynamic test drives.
Below are a few examples why you would need to carry out the calibration on these systems:
If the vehicle has been in an accident and needs a replacement radar box
The replacement of a windscreen
If a system has lost its calibration
When replacing faulty units
When cruise control systems no longer work
If distance measurement to the car ahead is incorrect
This is why many garages are now increasingly seeing the demand with the opportunity to service the systems on these vehicles. Hickleys Ltd can now offer the all in one solution to be able to carry out the correct calibration.
Call now for your on-site demonstration by one of our trained professionals to understand why the Hickleys solution is for you:
Bosch DAS3000 ADAS Package
Following OEM requirements for collision repairs, maintenance and servicing - the sensors of an advanced driver assistance system must be readjusted and calibrated accurately.
The DAS 3000 S20 conducts precise calibration of a front Radar and Camera.
With quick setup, innovative multi-function-fixture, robust but maneuverable design, and a broad selection of adjustable calibration targets, the DAS 3000 is ready for multiple applications within the automotive workshop.
Bosch diagnostic scan tools as well as diagnostic software ESI[tronic] 2.0 Online in combination with DAS 3000 ensure a proper calibration of the Active Cruise Control (ACC), Forward Collision Warning (FCW) and Lane Assistance system (LDW/LKA).
Features
Controlling vehicle specific calibration easily with diagnostic software ESI[tronic] 2.0 Online in combination with computed workflows and Target positioning: conform with OEM requirements, best efficiency and future proof (i.e. LIDAR)
Trolley with universal fixture designed for installation of multiple Target boards: rapid and accurate 1-point, 2-point and sequential calibrations
Scope of delivery includes a XL multi-function board: VW Group Camera calibration pattern and Radar reflector in one
Versatility scope of delivery includes a precision measurement bar designed for magnetic fixation of components from Bosch Multi-Target-shop: For rapid and accurate placement of Target boards
Integrated cameras and software workflows measure the distance to the vehicle and line-up to thrust line (driving axis) fully digital: guarantees a fast and accurate positioning including traceability
Universal fixture with integrated Pitch angle fine adjustment on top of device: For comfortable and ergonomic adjustment
Universal fixture with integrated height offset and roll angle adjustment: efficient pre-setting for dedicated working bays (i.e. above floor installed lifts)
XL Multi-function board covers all OEM Radar mounting heights and requires just a lateral rough positioning: simplifies the setup significantly, best liability.
Universal fixture offers Radar 3-point calibration (-2° / 0° / +2°): very ergonomic as operator can operate Diagnostic software and tiling mechanism in the same action range.
Robust trolley with extra-large wheels: For easy maneuverability and flexibility in busy workshop environments
Scope of Delivery
Calibration device
XL multi-function board with VW pattern and radar reflector
Distance measurement aid (post with reference panel)
Camera-Set "Driving axis"
Universal wheel clamp with target (Set)
Software package ADAS Positioning (download also via DDM)
Downloads
Bosch Large Starter Kit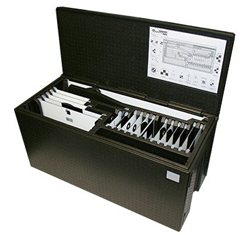 Kit includes 7 target boards covering the most common vehicles:
Mazda type 2
Mercedes type 1
Honda type 3
Universal type 1 (Kia/Hyundai, Fiat 500X, Jeep Renegade, Opel, PSA transporter)
Nissan type 1 (Qashqai)
Toyota type 1
Toyota type 3.
Bosch Car Camera Calibration Package
This package is ideal where only camera calibration is required, normally when windscreens have been replaced or the camera requires repair or recalibration. The package consists of the SCT415 main frame for camera target boards and a range of targets to suit Mazda, Honda, Nissan, Toyota and Mercedes.
Package Contents
SCT415 Main frame stand for targets
Mazda type 2
Honda type 3
Universal type 1
Nissan type 1
Toyota type 1
Toyota type 2
Mercedes type 1
VW Surround Panel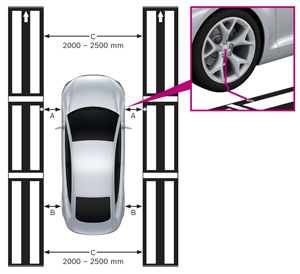 VW Reversing Panel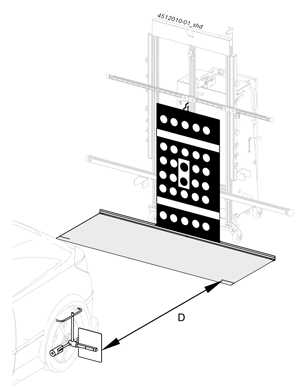 Model
Year
Distance D*
Arteon
2017
1700 mm
Arteon Shooting Brake
2020
1700 mm
Atlas
2017
1700 mm
e-Golf
2014
1700 mm
Golf Alltrack
2014
1700 mm
Golf Sportsvan
2014
1700 mm
Golf VII
2012
1700 mm
Golf VII Variant
2013
1700 mm
Passat
2014
1700 mm
Passat Alltrack
2015
1700 mm
Passat Variant
2014
1700 mm
Scirocco
2009
1700 mm
Tiguan
2016
1700 mm
Tiguan Allspace
2017
1700 mm
Touareg
2017
1700 mm
Touran
2015
1700 mm
T-Roc
2017
1700 mm
T-Roc Cabriolet
2019
1700 mm
* Distance D set with software Bosch ADAS Positioning