Texa eTruck

Texa eTruck - The evolution of remote diagnosis for commercial vehicles
eTRUCK is an innovative miniaturised tool that, for the first time, takes heavy duty truck workshops into a new diagnostic dimension thanks to the possibility to constantly monitor the status of the vehicle remotely, to manage the servicing from a predictive point of view and, the latest new feature, to perform adjustment functions that allow you to restore the vehicle's optimal conditions.
eTRUCK, which is installed in the vehicle's diagnostic socket* and configured within minutes, acts as a conjunction element between the repairer and the heavy duty vehicle, helping increase customer loyalty thanks to a constant and absolutely competent assistance service.
eTRUCK represents the ideal solution even for drivers and fleet managers, as it constantly keeps them updated on the conditions of their vehicles and allows them to carry out actions aimed at reducing costs and optimising the use of the vehicles, thanks to a dedicated app and management portal.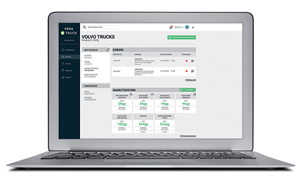 For TEXA Workshops
Through the Workshop Portal, there is the possibility to increase customer loyalty thanks to a highly professional service, which allows them to:
Constantly monitor the status of the vehicles remotely and to intervene on the electronic systems as if they were in the workshop
Manage the ordinary and extraordinary maintenance in advance
Share an appointment planner for the maintenance with the driver and the fleet manager
Manage the customer portfolio with a single software program
Create a detailed customer profile
For the Drivers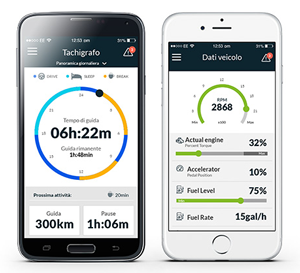 Thanks to an APP that supplies very useful information while driving the vehicle, it is possible to:
Read the Tachograph data in real time
Monitor your driving style
Fill out a Driver's Daily Vehicle Check & Defect Report list as required by the regulations of certain countries
Read the vehicle data in real time
Have a remote vehicle diagnosis available that helps solving any fault quickly, avoiding having to go to the workshop
Consult the service calendar shared with the workshop.
For the Fleet Manager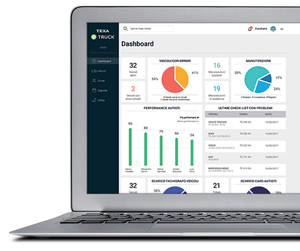 Through the Fleet Manager Portal, can:
Check the entire fleet regarding the status of the vehicles at a maintenance level
Assist remotely, through the diagnosis and the solution of possible vehicle faults by the workshop, reducing costs and increasing efficiency
Monitor the status of the maintenance of the vehicles and their expirations
Share an appointment planner for the maintenance with the workshop
Detect each driver's driving style
Download the Tachograph data remotely
Download remotely, directly from the ECU, the Trip Data Recorder, allowing detailed analyses of the use of the vehicle.
Pricing
The Texa eTruck is available to purchase in packs of 5 or 25 modules.
To operate eTruck, you must have a valid subscription to an existing Texa Truck diagnostic tester. Workshop licences are included in the purchase price of the modules for the duration of your curent Texa Truck diagnostic software subscription. After this subscription expires, a workshop licence must be purchased to use eTruck software.
eTruck 5 Pack
eTruck 25 Pack
Workshop Licences
eTruck Workshop Web Portal for up to 50 eTruck
eTruck Workshop Web Portal for up to 51-100 eTruck
£175.00 + VAT
P/No. :
texaetruck_lic100
eTruck Workshop Web Portal for up to 101-200 eTruck
£260.00 + VAT
P/No. :
texaetruck_lic200
eTruck Workshop Web Portal for up to 200+ eTruck
£350.00 + VAT
P/No. :
texaetruck_lic200plus
Downloads
Technical Data
| | |
| --- | --- |
| Model | TEXA eTRUCK |
| Processor | ARM Cortex M4 (STM32F439ZIY6) |
| Memory | SDRAM 8 MB; Flash NAND 4 GB |
| Communication | Bluetooth Classic (2.1); Bluetooth 4.0 Low Energy (Smart Ready) |
| Diagnostic connector | OBD socket ISO15031-03 for 24 V systems |
| Supported automotive bus types | 4 HS CAN transceivers connected to OBD pins 3-11, 1-9, 12-13, 6-14 that can be enabled individually; 1 J1708 transceiver connected to pins 12-13; 1 ISO9141-2, ISO14230 transceiver with 60mA current protection connected to pins 3 or 7 |
| Visual warnings | 1 green/red bi-coloured LED; 1 blue LED |
| Inertial sensor | Accelerometer: 3 axis, ± 16 G F.S.; Gyroscope: 3 axis, ± 2000 DPS G F.S. |
| Supply voltage | 12 / 24 Vdc |
| Consumptions | Normal mode: 60 / 120 mA (12 / 24 Vdc); Standby: < 6 mA |
| Device activation | Possible from OBD pins 1 and 8 or by monitoring the battery voltage |
| Operating temperature | - 20 °C ÷ 60 °C |
| Storage temperature | - 40 °C ÷ 85 °C |
| ISM operating frequency band | 2400 - 2483.5 MHz |
| Maximum transmit power in frequency band | 4 dBm |
| Relative humidity | 10% ÷ 80% without condensation |
| Dimensions in [mm] | 47,8*23,4*24,4 |
| Weight | 15 g |
| Directives | RED 2014 / 53 / EU; ROHS 2011 / 65 / EU |
| Product standards | EN 301 489-1 V2.1.1; EN 301 489-17 3.1.1; EN 300 328 V2.1.1 EN 62479:2010; EN 60950-1:2006 / A11+A1+A12+AC:2001+A2:2013; ISO 7637-1:2002; ISO 7637-2:2011 |
| Regulations | ECE / ONU R10 |