DTS Connect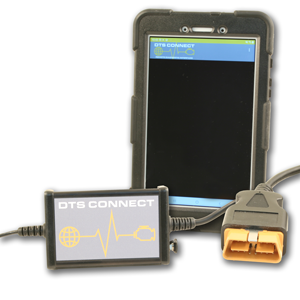 DTS Connect - The remote diagnostic and programming solution over the internet.
DTS Connect is a remote diagnostic solution made up from a remote diagnostic interface, software and an Android tablet. Together, this package allows the user to request diagnostic functions to be carried out remotely on the vehicle they are working on by a technician in a completely different location with access to a huge array of tools and equipment.
This means users can now complete complicated functions and jobs that up until now they could never complete with the equipment they own.
Diagnostic programming solution for:
Key Programming
Remote Programming
Pin Code Extraction
Diagnostic Fault Finding
Diagnostic Module Programming
Retrofitting of components
How Does it Work?
You simply go on to your tablet, open the DTS Tech portal and enter the vehicle registration number. The VRM Look up functions automatically find all vehicle details.
You then open a technical support case. This technical support case is where you request the function you require along with any previous faults or work carried out. This case is sent through to one of our technical team, they look into your query and ensure the request is viable. They will then reply with a price to complete the job and a free time slot where we can complete the job.
At your allocated time slot, you first connect the vehicle to a battery support unit. Then, connect your DTS Connect interface to the tablet by USB. You then connect the DTS Connect interface to the vehicle OBD socket; the software will then open and begin communication.
You will then be asked to confirm the vehicle, make and model. You will then be greeted by a real time live message from the technician who is working on your job. The live chat can be used to communicate during the job. All you have to do is follow the prompts from the technician and we do the hard work for you.
What's Included in the Package?
DTS Connect Interface
8.1" Samsung Android Tablet
DTS Connect Software
DTS Tech
Package Options
DTS Connect Package
DTS Connect Interface
8.1" Samsung Android Tablet
DTS Connect Software
DTS Tech Lite
DTS Connect Premium Package
DTS Connect Interface
8.1" Samsung Android Tablet
DTS Connect Software
DTS Tech Full 12 Month
DTS Connect Plus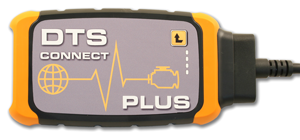 The future of remote diagnostic technology is here. DTS Connect Plus is the next generation of the extremely popular and successful DTS Connect interface. DTS Connect Plus follows the same philosophy as the original interface but with new features such as built in WiFi and LAN connection port this now allows for more flexible connection options and device choices.
DTS Connect Plus now has the option to be used in conjunction with an internet browser-based portal rather than just the Android Application. This means huge flexibility on device choices including PC, Laptop, Mac, IOS, Android and more.
Direct WiFi or Lan connection allows for faster and more stable data transfer meaning more complex jobs can be completed more easily and with greater confidence. DTS Connect Plus is also future proofed with features such as 4 Can Lines, DOIP enabled and CanFD ready.
As with the original DTS Connect interface, DTS Connect Plus gives you access to the DTS Connect servers and the team of Master Technicians on hand ready to complete Diagnostic and Key related jobs remotely over the internet for you. DTS Connect Plus allows you to access jobs and services that are normally the reserved for those with tens of thousands of investment in specialist equipment, at a fraction of the cost.
DTS Connect Plus requires no subscriptions or annual fees, the tool works on a simple pay as you go basis, you simply pay for the jobs you do.
Key Features
Direct WiFi or LAN Connectivity
4 CAN Bus Lines
DoIP Ready
CanFD Ready
Can be used in conjunction with Web Browser
Functionality
Key Programming
Pin Code retrieval
Module replacement
Diagnostic Support
Tow Bar coding
Retrofitting
Much more
Vehicle specific functionality can be viewed on the below application list.
DTS Connect PLUS
DTS Connect Plus Interface
DTS Tech Lite 12 Month Subscription
DTS Connect Software Access
DTS Connect PLUS Premium
DTS Connect Plus Interface
DTS Tech Full 12 Month Subscription (Normally £349.00)
DTS Connect Software Access
Only £899.00 + VAT
P/No. :
dtsconnectplusprem
DTS Connect Case Studies
2017 Ford Transit Custom - Water Ingress in the ECU - Customer identified the fault, ordered replacement ECU Module from Ford, we remotely programmed the new ECU into the vehicle.
2019 Mercedes C Class Coupe (W205) - Accident Damaged Front End - Customer repaired the front end, a new O/S headlamp was required. Customer installed the headlight, supplied us with eh unique QR Codes. We then remotely programmed the new headlamp.
2013 Vauxhall Meriva B - Failed ABS/ESP Control Unit - Customer ordered replacement module from Vauxhall we then remotely programmed the new module.
2016 Ford Transit Custom - Vehicle non start, fault code of P241D stored in emission control. Vehicle had been run dry of AdBlu and would not reset. Coding and adaption carried out to rest the AdBlu system.
2019 BMW 530e - Vehicle had been serviced outside of the BMW dealer network. Customer had an AOS account with BMW to update the BMW server but did not have the BMW Icom to write the service history back to the vehicle. We connected remotely and updated the vehicles idrive with current service history
2015 Audi A1 - Vehicle had lost its coding for the steering angle sensor. We remotely programmed the steering angle sensor basic settings.
Application List