DTS Connect Plus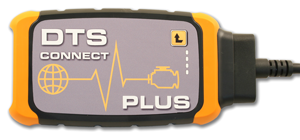 DTS Connect Plus Remote Programming Solution - In Partnership with Core Diagnostics Ltd
The DTS Connect Plus tool is a gateway to our unique remote service. Powered by accredited experts, our remote team perform OE-level diagnostics tasks, in real time.
In partnership with Core Diagnostics Ltd we offer the DTS Connect Plus remote programming interface. This allows you to access high end diagnostic programming jobs carried out by the expert Core Diagnostics team.
How it Works
Plug in - Plug in your Core Remote into the vehicle's OBDII port and wait for the solid green light on the Ethernet port
Select - Open your browser and head to the Core Portal. Select your vehicle, product and create a remote support ticket
Connect - Our experts will connect to your vehicle remotely and access the required diagnostic information through the cloud
Job Done - We will now complete the requested job in real-time. You will be updated, on the job, via the Core Remote live chat.
What Can DTS Connect Plus offer me?
ADAS Calibrations
Our Core experts can carry out ADAS calibrations procedures. Add Core to your existing setup to increase your vehicle coverage and receive live expert support.
Programming and Coding
We can help diagnose and solve issues with your vehicles remotely and efficiently.
Key Programming
Core can assist with the programming of replacement keys and new key locksets.
Module / ECU Commissioning
We can assist with teaching in new control units that have been fitted to the vehicle.
Pre and Post Repair Reports
Our repair reports give you peace of mind before and after we diagnose issues with your vehicles. A requirement for new IIR guidance.
Diagnostics and Secure Gateway Access
Security gateways can make programming and calibrating vehicles difficult. Your solution? Core's tool. We can access the security gateway with ease.
What are the benefits of DTS Connect?
No monthly fees required.
Low cost initial investment.
No pre booking, simply connect to the vehicle and raise a ticket.
Competitively priced jobs on a pay as you earn basis.
Access to over 10 specialist programmers through your DTS Connect interface.
Remote programming available 9am to 5pm Monday to Friday.