DTS Connect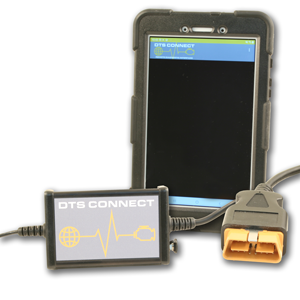 DTS Connect - The remote diagnostic and programming solution over the internet.
DTS Connect is a remote diagnostic solution made up from a remote diagnostic interface, software and an Android tablet. Together, this package allows the user to request diagnostic functions to be carried out remotely on the vehicle they are working on by a technician in a completely different location with access to a huge array of tools and equipment.
This means users can now complete complicated functions and jobs that up until now they could never complete with the equipment they own.
Diagnostic programming solution for:
Key Programming
Remote Programming
Pin Code Extraction
Diagnostic Fault Finding
Diagnostic Module Programming
Retrofitting of components
How Does it Work?
You simply go on to your tablet, open the DTS Tech portal and enter the vehicle registration number. The VRM Look up functions automatically find all vehicle details.
You then open a technical support case. This technical support case is where you request the function you require along with any previous faults or work carried out. This case is sent through to one of our technical team, they look into your query and ensure the request is viable. They will then reply with a price to complete the job and a free time slot where we can complete the job.
At your allocated time slot, you first connect the vehicle to a battery support unit. Then, connect your DTS Connect interface to the tablet by USB. You then connect the DTS Connect interface to the vehicle OBD socket; the software will then open and begin communication.
You will then be asked to confirm the vehicle, make and model. You will then be greeted by a real time live message from the technician who is working on your job. The live chat can be used to communicate during the job. All you have to do is follow the prompts from the technician and we do the hard work for you.
What's Included in the Package?
DTS Connect Interface
8.1" Samsung Android Tablet
DTS Connect Software
DTS Tech
Package Options
DTS Connect Package
DTS Connect Interface
8.1" Samsung Android Tablet
DTS Connect Software
DTS Tech Lite
DTS Connect Premium Package
DTS Connect Interface
8.1" Samsung Android Tablet
DTS Connect Software
DTS Tech Full 12 Month