Delphi VTI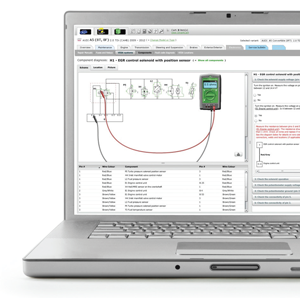 Delphi VTI Vehicle Technical Information
Today's intelligent automotive technology requires an equally intelligent approach to diagnostics and servicing. Access to high quality, in-depth technical information is a must. Where better to get this information than direct from the manufacturer.
Integrated into our DS software, Delphi's all-makes Vehicle Technical Information (VTI), combines essential maintenance and repair data with detailed technical drawings, manuals, procedures and more. This will help you to work more efficiently, saving you both time and money.
Key Features
Extensive library of technical information
Maintenance, engine, transmission, steering and suspension, brakes, exterior/interior and electronics.
Provides adjustment data:
Technical drawings, fuses and relays, manuals and procedures, repair times, wiring diagrams and diagnostics.
An easy to use interface:
Select a vehicle by Make/Model, TecDoc Number, KBA Number, Type Approval and VIN.
Additional information:
Recalls, technical service bulletins and cases (real-world advice from technicians).
Coverage of all leading European makes and models.
Seamless integration:
Delphi's DS software has the ability to link with parts catalogues and ERP systems.
SmartFIX™
SmartFIX™ provides instant access to Technical Service Bulletins (TSBs) and recall data, keeping you up-to-date with manufacturer's recommended servicing and maintenance wor.
TSBs and recall data direct from the manufacturer
Quick identification of known issues
Links to other data including specifications, procedures, drawings, manuals and fault codes for effective resolution.
Step-by-step instructions reducing the amount of non-billable hours
More faults can be fixed in the workshop for increased customer retention
SmartCASE™
This a technical database offering proven, real-world solutions to less common issues.
Resolution of issues:
with verified fixes and tips from industry professionals.
Access to a range of cases:
with suggested solutions including fault codes and repair procedures.
Quick identification of less common problems:
saving time and money.
VESA™ (Vehicle Electronics Smart Assistant)
provides guided step by step component testing for Engine Braking (ABS/ESP) and Power steering & Air conditioning
Three Levels of Technical Information Available for Car:
Basic Pack (included in DS software while in subscription)
Identification
Maintenance
Repair manuals
Adjustment dat
Lubricants & fluids
Recalls
Technical Pack+ Smart Pack+ Basic Pack: (only available for Delphi Service Centres)
Fuses & relays
Technical drawings
SmartFIX (Technical Service Bulletins)
SmartCASE (verified fixes & tips)
Ultimate Pack+ Technical Pack+ Smart Pack+ Basic Pack
VESA (guided diagnostics of components)
> 90% of UK vehicle parc coverage
Repair times
Comfort wiring diagrams
*Note. Can only be purchased while DS in subscription (note Delphi Service Centre customers contact us for price)
Example Screenshots
Delphi VTI Vehicle Technical Information for Truck
Truck VTI isn't just for trucks, it covers trailers too, and it's soon to have guided diagnostics to make life even easier!
As its name suggests, Delphi VTI for Truck, powered by Haynes Pro is a fully functional database that allows your customers to service and maintain trucks as well as trailers. As both the database and the interface are derived from WorkshopData™ - Car Edition, Delphi VTI for trucks enjoys the same powerful features and unique benefits.
The Data
Maintenance, Engine, Transmission, Steering, Brakes, Axles, Exterior/Interior and Electronics, Adjustment data, Technical drawings
All major makes
The database includes detailed information on all leading truck manufacturers in Europe.
DAF
Iveco
Isuzu
MAN
Mercedes Benz
Nissan
Mitsubishi
Renault
Scania
Volvo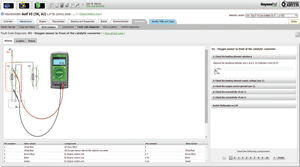 Leading the Way in Wiring Diagrams
Haynes Pro, who helps power the Delphi truck VTI, was the first data provider in Europe to offer ABS data and engine management wiring diagrams for trucks. This information is now included in the VTI Truck Business and Ultimate upgrade packs. In fact, we currently offer the most comprehensive set of wiring diagrams in the market. All diagrams use standard symbols, and are available as full colour Vector graphics, and can be easily printed.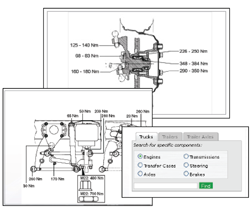 Component Database
Most trucks are custom-built from a variety of components. When servicing trucks, mechanics often require technical data for a specific component only, preferably without having to select a make or model first.
Delphi VTI - Truck Edition includes a simple search engine that allows you to look up specific components on the basis of their name. The search data is organised by make and/or filtered by component group. Likewise, adjustment data and torque settings may be retrieved and printed for individual components.
Purchase Options
Truck VTI is available in 3 levels on a 12 month license: (note DS needs to be in subscription to purchase)
SV11518 - VTI Truck Professional
Maintenance including Service times
Adjustment Data & Lubricants
Repair Manuals including Torques settings
SV11519 - VTI Truck Business
All of the above plus :
Wiring Diagrams (ABS & Engine Management)
Repair Times
SV11520 - VTI Truck Ultimate
All of the above plus Light Commercial Vehicles (LCV's)