Brain Bee B-Touch Diagnostic Tester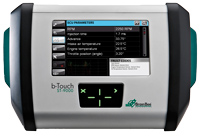 Brain Bee B-Touch Diagnostic Tester
A top quality "all makes" diagnostic system tester coming from one of the leading European manufacturers, Brain Bee SPA in Italy.
This excellent handheld tester offers in-depth diagnostic procedures on an impressive range of vehicles and equally impressive depth of systems, including EMS, DMS, SRS, Chassis, Body, Instrumentation and much more.
In addition to the Basic functions the B Touch will also cover:
Fault code read / clear
ECU Information reading
Parameter / status reading
Socket location
Adjustments
Activations
Coding and programming
Pedia Information
The B Touch is an excellent choice for any service centre or diagnostic specialist that is looking for quick and precise diagnosis for vehicle faults or the necessary coding when carrying out vehicle servicing.
The easy to follow menu and excellent graphics makes navigating the software very intuitive and ideal for every level of technician.
Technical Specification
V2.0 Wireless connection Bluetooth V2.0 with 100m range in free field
Memory Internal cache 64Mb DDR RAM, 128Mb FLASH, 2Gb microSD or higher
Keypad Capacitive 6 buttons QTouch
Display TFT 7" 800x480 with 262144 colours with touch screen.
Diagnostic lines Multiplexer Integrated electronic switch with current protection
Power supply from vehicle battery 8-35V DC
Battery 7,4V 2200mah Li-Ion integrated battery pack, rechargeable - autonomy: 3 hours
Operating temperature 0°C / +45°C
Power 12 W max
Dimensions 315x220x55mm ( L x H x P )
Weight 1500g
The B Touch comes with 12 months Software updates and 12 months Warranty.
Please note this is a special price for UK Customers only.
Software Update
Update your BTouch to the latest software.