Texa Axone 4 Mini Diagnostic Tester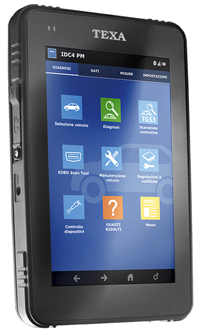 Texa Axone 4 Mini Diagnostic Tester
The AXONE 4 Mini is a brand new compact but extremely advanced diagnostic tool that incorporates most of the extraordinary functions that have made the AXONE 4 tablet such a success around the world.
The Texa Axone 4 Mini is currently available in 2 complete packages, one dedicated for cars and one dedicated to bikes.
Packages
The Axone 4 Mini is available to purchase in a range of packages, each suitable for different applications. For information on the packages available, and for detailed pricing, please click below:
About the Axone 4 Mini
On the outside, the AXONE 4 Mini features an eye-catching yet refined look that emphasises its robust build. Excellent user-friendliness is guaranteed by a 7 inch resistive full touch screen with a record resolution of 800x1280. On the inside, its architecture is based on a Cortex A8 processor that offers amazing calculation speed and flexibility. This powerful processor accesses and runs diagnostic functions in only half the time taken by the previous generation of processors.
Other important features include a 4 GB solid state hard disk and a 16 GB SD card that lets you run a number of functions simultaneously. Because the hardware of the AXONE 4 Mini is incredibly versatile, and mechanics will be able to enjoy using the tool for many years to come, keeping abreast of the latest developments in vehicle electronics.
A Bluetooth module allows the AXONE 4 Mini to communicate easily with TEXA interfaces (NAVIGATOR TXT, NAVIGATOR TXC, Navigator Nano), exhaust gas analysers (GASBOX Autopower, OPABOX Autopower, RC2, RC3) and electrical measuring tools (UNIProbe and TwinProbe). A Wi-Fi card gives access to the internet. As with all TEXA products, the AXONE 4 Mini is extremely robust. In fact, it boasts homologation to military standard 810F and a protection rating of IP54.The operating system is also protected against viruses. In short, the AXONE 4 Mini is ideal for use in tough workshop environments.
The AXONE 4 Mini runs IDC4 PM which guarantees excellent usability and unprecedented speed, thanks to a special swipe-screen user interface similar to those found on popular consumer electronic products. A highly intuitive graphic interface based on large, coloured icons guides you through the various diagnostic functions quickly and easily, and the new software even provides direct access to important functions like parameter and state detection, error detection and resetting, component testing and activation, adjustments and calibrations.
On top of this, thanks to the constant dedication of TEXA's worldwide development team, IDC4 PM also offers the widest coverage of any diagnostic software on the market, with over 350,000 selections. This in-depth coverage lets you work with confidence on the vehicles of all manufacturers, including Japanese, Korean, Chinese and Indian models.
TEXA has even launched a dedicated new portal to let you check the actual models covered by IDC4 software as well its latest diagnostic functions: www.texa.com/coverage.
In addition to unrivalled brand and model coverage, IDC4 PM also offers you access to essential content like technical bulletins, technical data and wiring diagrams to support your diagnostic procedures.
Technical Bulletins
These provide superbly accurate information on the selected vehicle, including instructions for performing manual resets after servicing, overviews of specific mechatronic systems and more besides.
Technical Data
TEXA's extraordinary database contains specific details of all vehicles. TEXA's technical data provides extremely detailed, model-specific information on mechanical settings, wheel alignments, tyre pressures, timing belt settings, scheduled maintenance, component locations, component testing and more besides.
Wiring Diagrams
These are prepared by TEXA's own engineers. Because they follow the same standard for all vehicle manufacturers, they are a great help in troubleshooting. While you are consulting a wiring diagram, you can also access datasheets for specific components or use the SIV function to perform oscilloscope tests using automatically selected settings.
IDC4 PM is the most complete diagnostic software available and also provides invaluable information to guide you right through a repair, from symptom to spare part.
IDC4 PM software also includes a whole series of functions designed to make life as a mechanic that much easier. These include:
TGS3
TEXA Global Scan 3 is the amazing automatic function that scans all the diagnosable ECUs on a vehicle. Not only is the scan incredibly quick, but as soon as it finishes, TGS3 identifies the results and flags up any errors, allowing you to run autodiagnostics on selected systems.
Solved Problems
This extraordinary IDC4 function lets you use Google search technology and an internet connection to search TEXA's database for fault solutions that have already been used by mechanics around the world and collected by TEXA's international call centres. The procedure is quick and easy. You simply select the vehicle you are servicing, then search for a fault solution by entering a description of the fault. Solutions and instructions are delivered in a matter of seconds.
Continuous Updates
TEXA's Continuous Updates function lets you download update packages for new vehicles and new models as and when they become available, without you having to wait for the next complete version upgrade. And thanks to TEXA's new, ultra-fast servers, downloads take very little time.
Much More than a PC
Because the AXONE 4 Mini is specially designed for use in vehicle workshops, it has a whole series of advantages compared to a standard PC. The innovative AXONE 4 Mini is robust, waterproof, easy to handle and practical – essential characteristics for a garage diagnostic tool – and also boasts an operating system that is immune to viruses and free from compatibility problems.
The AXONE 4 Mini is manufactured on ultra-modern and fully automatic assembly lines that apply extremely tough quality controls and ensure total product traceability. TEXA is one of very few companies in the diagnostics sector to be certified to ISO TS 16949, the standard demanded of OEM suppliers to the automotive industry.
AXONE 4 Mini TECHNICAL SPECIFICATIONS
Processor: Cortex A8, 800 MHz
SDRAM memory: 512 MB, DDR3, 800 MHz
Internal flash memory: iNAND, 4 GB
Operating system: Windows Embedded Compact 7
Display: 7", WXGA, 16:10, 262 colour, TFT-LCD, resistive touch screen
Audio: integrated buzzer, speaker and microphone
Internal battery: fixed 3.7 V, 5200 mAh, Li-ion battery; backup battery for RTC
Communication ports: docking connector, 1 host USB and 1 Ethernet 10/100, with sliding access panel
Wireless connection: Bluetooth classes 2 and 1.5 on integrated module, 802.11b/g/n Wi-Fi on internal module; co-existence management; built-in antenna
Memory expansion: SD card slot
Dimensions: approx. 202x128x23 mm
Weight: approx. 600 g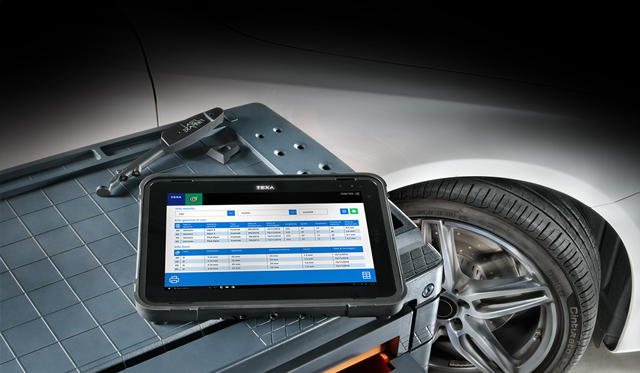 Texa Laser Examiner
The Laser Examiner is a small practical tool to objectively measure brake disk wear with an accuracy of a tenth of a millimetre without having to remove the wheel from the vehicle. You can also measure tire tread wear using a simple adapter.
This tool integrates perfectly with the Axone 4 Mini.
For more details, visit the Texa Laser Examiner page.