Texa Navigator TXTs
Navigator TXTs
Wireless Diagnosis of Car, Truck, Bike and Agri.
The Navigator TXTs are excellent diagnostic interfaces that communicate wirelessly to a range of Texa display units, including Axone 4 & Axone 4 Mini. The Bluetooth technology enables the TXT to communicate without cables.
The Navigator TXT can communicate with multi brand vehicle electronic control units to enable diagnostic interrogation of the system.
The development of the interface has been focused on reducing the communication time, and thanks to the 64 MB memory the device can save all the communication programs previously used and retrieve it from the internal memory,reducing the communication time by over 70%.
Also the automatic internal switching enables the device to communicate with all makes of vehicles without cables or adapters.
IDC5 Software - Full Speed Ahead
IDC5 is the latest generation of TEXA's renowned operating system and another step forward to assist technicians. Thanks to major improvements in code, the new system is faster than ever and guarantees virtually instant communication with a vehicle's control units.

The graphic interface of IDC5 is designed to resemble the latest consumer applications, simplifying and making the various steps in maintenance and repair procedures more intuitive.

The new "Interactive Wiring Diagrams" function lets you consult wiring diagrams using animations of a system's devices and an interactive map generated to show signal flows to and from the control units. Another new function allows you to view and manage vehicle parameters.

These can be displayed in graphic form and can be filtered using text searches or by selecting those specifically required. Even the downloading of updates is faster in the new software.
PASS THRU
Navigator TXTs is compatible with the PASS-THRU protocol, which allows any workshop to connect to each manufacturer's central server and download software packages or official technical information. The PASS-THRU function can be used whenever needing to update the software on one or more electronic control units, in the event of malfunctions.
Features
Huge vehicle range and depth of software
Read & Clear the error memory
Activation, adjustments and configuration
Resetting fault lights and electronic systems
Purchase Options
The Texa Navigator TXTs can be purchased on the following pages:
Agricultural Premium Package
Truck Premium Package
Fleet Premium Package
Technical Specification
Processor: CORTEX M3 STM32F103ZG 72 MHz, FLASH 1024 KBytes, SRAM 96 KBytes
SRAM memory: 8 MBits organized 512 KBytes x 16 bits
NAND Flash memory: 1 GBit on 8-bit bus
Vehicle battery: 12 VDC and 24 VDC systems' management
External power supply: 8 ÷ 32 V
USB communication: virtual RS232 via USB 2.0 Device
Wireless connection: Bluetooth class1 (30 m)
Electronic switch: 2-way, 13 independent positions
Diagnostic connector: DSUB-26HD standard ISO 22900-1
Control unit reprogramming connector: PV as required by the SAE J2534 protocol
Supported protocols:

Blink codes
K, L (with current protection 100 mA), ISO9141-2, ISO14230;
CAN ISO11898-2, ISO11898-3
SAE J1850 PWM
SAE J1850 VPW
SAE J2534-1 *

Power supply connector: 4-pin power mini-din
Visible warnings: 1 green LED, 1 red LED, 1 blue LED
12 V consumption: 0.25 A typical
24V consumption: 0.18 A typical
Operating temperature: 0 ÷ 50 °C
Stocking temperature: - 20 ÷ 60 °C
Operating moisture: 10% ÷ 80% without condensation
Dimensions: 160x170x55 mm
Weight: 1 kg
Regulations:

Directive: 1999/5/EC
Safety: EN 60950
Electromagnetic compatibility: EN 55022, EN 55024, EN 301 489-1
Radio systems: EN 301 489-17, EN 300 328-2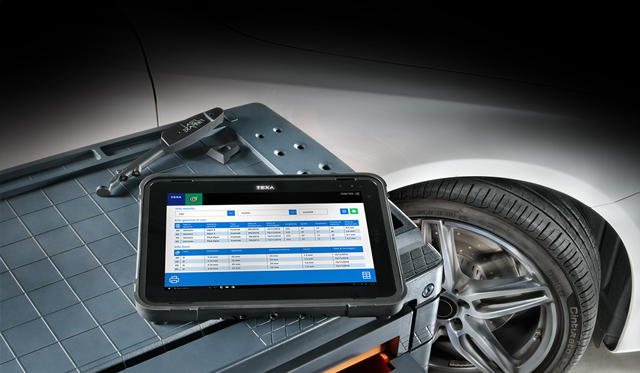 Texa Laser Examiner
The Laser Examiner is a small practical tool to objectively measure brake disk wear with an accuracy of a tenth of a millimetre without having to remove the wheel from the vehicle. You can also measure tire tread wear using a simple adapter.
This tool integrates perfectly with the TXT.
For more details, visit the Texa Laser Examiner page.