Brain Bee X-Touch Wireless Diagnostic with Tablet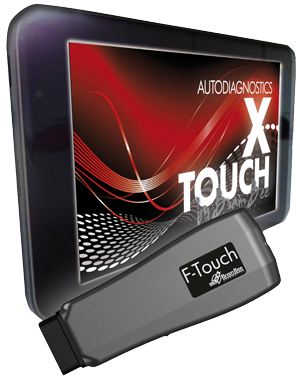 The autodiagnostic world of Brain Bee takes a further step towards total quality and enters a new dimension. New additional functions, multiple interfaces and queries, more intuitive graphics and higher speed are the main features making BRAIN BEE Touch line the first scantools of new generation.
Everything Under Control
X-Touch offers and improves the basic functions already offered by BRAIN BEE diagnostic tools.
The X-Touch electronics are fitted for operation with Pass-Thru technology enabling the programming of the vehicle ECU directly by the scan tool via the PC, with the connection being authorised by the model manufacturer.
ECU Information Reading
Parameter / Status Reading
Fault Codes Reading / Erasure
Adjustments
Activations
Codifications
Visual identification of the position of diagnostic sockets and cable to be used
Practical, Simple and Rich in Technical Information
X-Touch is a practical tool, simple and rich in technical information and wiring diagrams, which guides the operator in detecting errors in different systems until the complete elimination of the defect of the vehicle.
X-Touch can be used in combination with the SPECIAL TABLET included in the configuration.
X-Touch is wireless; using Bluetooth technology. X-Touch transmits data to the central unit, leaving the operator completely free of wires that would obstruct garage operations.
New Functions
Quick: a new search method within functions complementing the traditional tree search and allowing expert professionals to directly reach the searched system or function. By entering keywords or parts of the system or function name, the diagnostic objective can be achieved more rapidly.
DY Test - Dynamic Tests : allow for the identification and solution of the vehicle problems by means of a set of guided tests. Highly reliable and more accurate than the traditional interpretation by parameters comparison, these tests are specially conceived in cooperation with motor experts who constantly test their effectiveness
PEDIA - The Database on your Scan Tool : is the Automotive EXCLUSIVE FUNCTION created by Brain Bee and developed by thinking how to fully meet the needs of professional repairers: having a wide, exhaustive, constantly developed INFORMATION and being able to browse through it when needed, that is when conducting repairs.
Display Graphs : they provide the dynamic display of the testing state progress or the activity of functions during their implementation.
Comprehensive Database - Total Market Control
The updatable vehicle database for the X-Touch is very comprehensive, comprising of Asian cars, European cars and commercial vehicles.
The 4 planned updates per year, controlled by the annual subscription, can be applied to the X-Touch as soon as they are available.
Technical Specifications
F-Touch
Connections : diagnostic connector OBD-II SAE J1962 – USB V2.0 mini-B
Wireless connection : Bluetooth V2.0 with 100m range in free field
Internal cache memory : 2Gb microSD.
Diagnostic lines Multiplexer : Integrated electronic switch with current protection
Power supply from vehicle battery : 8-35VDC
Operating temperature : 0°C / +45°C
Power : 6 W max
Dimensions : 150x25x48mm (LxHxP)
Weight : 0,2 kg
Update via TABLET TOUCH
Tablet
Operating System / Platform : Window s 8.1 32-bit (pre-installed)
Display : COLOURS 8.0" MULTITOUCH
Processor type : Intel® Techn ology 2