VAUX-COM Diagnostic Tester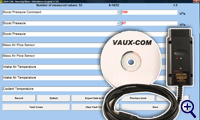 VAUX-COM Diagnostic Tester
Vaux-COM is a Windows based piece of software that turns your PC into a sophisticated diagnostic tool, capable of diagnosing GM / Opel vehicles from 1994 to 2014, including Vectra C, Astra H and Insignia.
VAUX-COM PC based diagnostic tool covers almost all Vauxhall and Opel cars and light vans and allows you to diagnose almost all modules including the engine management, airbag, ABS, immobiliser, instruments and many more.
VAUX-COM can diagnose almost all Vauxhall / Opel systems including :
Automatic Transmission, including Easytonic, CVT and Tecshift types
ABS, Antilock Braking System, TC and ESP systems, including Steering angle sensor calibration
Tyre pressure Monitoring
Electrohydraulic and full electronic power steering
Immobiliser, including all key programming
Instrument cluster, including read write eeprom on many models
Seat memory and heating
Airbag and other crash systems
Electronic sunroof
Climate control. Including Astra H UEC, ECM and ECC re-config when compressor renewed
Headlamp levelling system
Park Pilot
CIM, including programming and configuring new units
Body Control Module, including configuring and variant coding
Rear Electrical Centre, including all reprogramming when replacing
Underbonnet Electrical Centre, including reprogramming
Driver and Passenger door modules
Shift Lever Module
Entertainment head Unit
DIS, UHP (mobile phone) and DAB units
PEPS Keyless entry (Open and Start)
Electrohydraulic Hardtop and SoftTop
Parking Heater
And works on almost all models including the latest CAN-BUS and Global A Platform cars
Agila A and Agila B 2001 - 2013
Antara 2006 - 2013
Astra F, Astra G, Astra H and Astra J 1987 - 2014 (limited programming on Astra J at the moment)
Calibra 1989 - 1997
Captiva / Captiva MaXX 2006 - 2011
Corsa A, Corsa B, Corsa C, Combo van and Corsa D - 1987 - 2014 (note Fiat based Combo D not yet covered)
Frontera A and Frontera B (limited coverage)
Insignia 2009 - 2013 (limited programming on Insignia at the moment)
Meriva A and Meriva B 2002 - 2013
Monteray (limited coverage)
Movano 1998 - 2012
Omega A and Omega B 1987 - 2003
Senator 1987 - 1993
Sintra 1996 - 1999
Speedster / VX220 2000 - 2005
Tigra and Tigra B 1994 - 2009
Vectra A, Vectra B and Vectra C / Signum 1988 - 2008
Vivaro 2001 - 2012
Zafira A and Zafira B 1999 - 2012
This PC / Laptop based tool replicates almost all the functions of the dealer "TECH 2" tool for a fraction of the cost.
Supplied complete with the latest CAN-BUS interface VAUX-COM covers models made from 1997 to 2014 including Astra H, Corsa D, Vectra C, Captiva and Movano
Kit Contents
VAUX-COM comes complete with all the hardware and software to connect your PC or laptop computer to almost any Vauxhall car or light van Comes complete with:
1 x USB hardware interface 16 pin
Software on CD-ROM
Printed installation instructions
User manual on CD-ROM
Free Software upgrades by internet download
Reading Fault Codes
VAUX-COM can read and clear fault codes from almost all Vauxhall cars and light vans. It's easy to use and all the fault codes are shown with the Vauxhall DTC number and the full English text meaning for the code.
Clicking on any displayed code will show more details about the code including whether the code is present (fault exists now) or intermittent (fault occured in the past but is no longer present). From the fault code screen you can also choose to print a copy or save them to your usual word proccesor, windows notepad or email etc.
Viewing Live Sensor Data
VAUX-COM also allows you to view live sensor data from most modules. This is helpful when determining why a fault code has been set.
Actuator and Output Tests
VAUX-COM can also operate some relays, soleniods and other actuators to help test systems.  For example an EGR valve can be operated by the VAUX-COM software and you can actualy see if the valve works.  If you are trying to test a fuel pump you can control the power relay and test the circuit  Even the instruments can be operated by the VAUX-COM diagnostic tool Each gauge and warning light can be individually controlled so the next time a customer reports a fuel gauge not working you can view the live data to test the tank fuel level sender and then operate the gauge with your laptop to prove where the fault lies.  This level of diagnostic power takes the guess work out of the job and gives you the confidence to order parts knowing they will be used and paid for.
Programming & Setting Changes
Vaux-Com can also carry out many programming or setting changes available on the specific vehicles, such as dashboard and engine management, as well as coding to items such as keys, remotes, sensors and modules.
Hardware Details
VAUX-COM comes complete with a genuine intelligent microprocessor powered interface which is firmware upgradable. This means that as new features are added to new car models, the interface can be upgraded automatically by the software to incorporate them
The hardware interface:
Has all current diagnostic speeds and CAN-BUS
Can be upgraded automatically by software
Automatically selects the correct pin for the module being tested
Is designed as a genuine USB device. No compatibility problems
Covers all vehicles from 1994 to 2014 (10 pin adapter needed for pre 1997)
Because Vauxhall use many different pins in the diagnostic socket, the interface has been designed to automatically select the correct pin for the system that is being worked on.
All currently used communication speeds are included as well as low, medium and high speed CAN-BUS for later vehicles such as the Vectra C.
LEDs on the interface show you what is happening as you use the tool.
The USB cable is three meters long and we can supply an extension to take this to 6 or even 8 meters if you need it.
The design uses the latest technology to pack all the components into a slimline case which allows the interface to be used on all known Vauxhall cars and light vans (Note DLC locations for Vauxhall models are included in the manual that comes with this tool).
This is a durable tool which will give many years of service and comes complete with software which is in constant development to add new features and models as they are introduced by Vauxhall