VDO Autodiagnos Check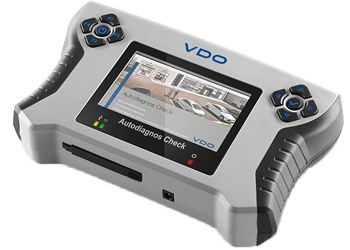 VDO Autodiagnos Check - The revolutionary tool for garage use
Plug & Play Service - Connect, Start, Go!
For the first time, Continental has applied the self-operating principle known from computer technology to garage processes. In doing so, it has created a completely new product category: Plug & Play Service.
This solution simplifies everyday service activities across all manufacturers. Garages can operate more efficiently and the strain is taken off mechanics. This is because complex applications run mostly by themselves.
VDO Autodiagnos Check - The convenient, uncomplicated service tool
Why make things complicated when they should be easy?
The VDO Autodiagnos Check Plug & Play service tool from Continental is the perfect tool for every garage and any member of staff. It provides instant access to vehicle systems and takes the user through the service process step-by-step for quick and easy navigation.
Plug & Select - Service that works with a few simple touches
Instant access to a wide range of vehicle systems with a touch of a button!
Simply connect and choose from a range of relevant Fast-Check service functions without any complications or sources of error. The tester then guides the user on a self-explanatory path through the service process.
Plug & Identify - Service that just comes easy
Service without any detailed manufacturer specific knowledge!
Once the vehicle manufacturer has been selected, the model, year and corresponding controller are identified automatically. The main service applications are covered for all manufacturers and the solution offers user-friendly navigation.
Plug & Fix - Service that leads to a quick solution
The important service tasks for all manufacturers at your fingertips?
The VDO Autodiagnos Check is not cluttered with unnecessary functions. This enables the tool to work quickly and easily to guide the user straight to the relevant tasks for maximum efficiency in service work.
VDO Autodiagnos Check - Couldn't be easier
Activate tester
Connect the tester to your computer, download the PC software from www.autodiagnos.com and then register. Now you can start.
Oil change and inspection
Once you've done all the mechanical work involved in inspection, reset the appropriate service intervals with VDO Autodiagnos Check.
Engine
Just a quick readout of the fault memory, a check on the actual values and deletion of the memory? No problem at all with VDO Autodiagnos Check.
Steering angle calibration
After a successful axle measurement, VDO Autodiagnos Check calibrates the steering angle sensor of the vehicle.
Change brake lining
First move the electronic parking brake (EPB) to the service setting using the tester. After changing the brake linings, recalibrate and close the EPB.
Regenerate diesel particle filter
You can initiate regeneration of the diesel particle filter with VDO Autodiagnos Check. To do so, just follow the instructions displayed.
Functions
EOBD
Engine
Service
Transmission
Brake system
Airbag
Tyre pressure monitoring
Steering/suspension
Battery
Air conditioning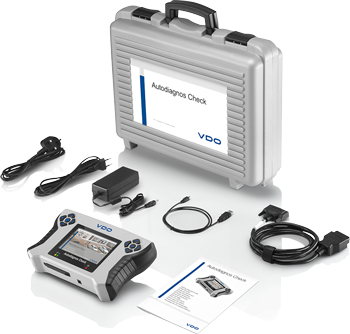 Use cases
Oil change: Reset the interval
Diesel filter change: Bleed the fuel system
Brake fluid change: Bleed the ABS unit
Engine service/repair: incl. teaching of sensors and actuators
Features
Large colour display
Flexible, shielded OBD cable
Sturdy casing
Intuitive navigation
Multi-language
Built-in battery
Transport case
Virtual keyboard
Included in the Autodiagnos Check service kit
Autodiagnos Check service unit
EOBD/OBD-II cable
USB cable
Power supply unit
Mains cable (EU)
Mains cable (UK)
Quick Start Guide
Transport case
Update
Via USB cable and download
Languages
German, English, French, Spanish, Italian, Polish, Czech, Dutch, Portuguese
Technical data
Transport case dimensions: 49 x 38 x 15.5 cm (H x W x D)
Weight of service kit: 3.64 kg
Service unit dimensions: 15.2 x 25.6 x 5.1 cm (H x W x D)
IP rating of service unit: IP30
Downloads