Bosch DCU 100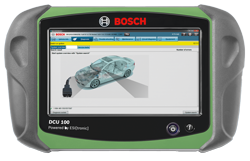 Bosch DCU 100
The DCU 100 is a tablet PC designed to be used in automotive workshops. The development of the DCU 100 as an alternative to existing Bosch diagnostic tools is based on many years' experience in the field and reflects the demands of our customers.
The DCU 100 has been specifically designed to be used with ESI[tronic] 2.0 and comes with Windows POSReady 7 installed as operating system. This makes the first steps very easy for the user.
The device is small and handy, nevertheless it has a 10" touch screen. The lithium-ion rechargeable battery on the rear enables autonomous work. Via the powerful, integrated Bluetooth module, the products of the KTS 5xx series can be operated in conjunction with the info types of the ESI[tronic] 2.0 (A, C, P; M Bike and Truck), as well as with the TPA Startcenter / TPA 200.
The DCU 100 has 2 operating elements, On/Off button and Function button
A central printer can be connected via USB or WLAN. On the right side and left side, the DCU 100 has ergonomically designed handles.
Download the DCU 100 Sales Leaflet
Technical Specification
Technical Data: DCU 100
CPU:
Intel Atom N2600 1.6 GHz, Dual Core with Hyper Threading
RAM:
2 GB DDR3
Mass storage:
320 GB HDD, industry standard 2.5" SATA
SD slot:
1 slot for SD memory card
Display:
TFT color monitor, 1024 x 600 dpi
Touch screen:
Resistive
VGA:
VGA connection for external monitor
LAN:
1 x 10/100 Ethernet LAN
USB:
2 x USB 2.0 High Speed with high output current
Audio:
2 x 1.5 W output power
Ext audio:
1 x stereo headphone jack
WLAN:
IEEE802.11 b/g/n WiFi with Diversity antennas
Bluetooth:
Bluetooth Standard Class 1
Battery:
Lithium-ion 5.200 mAh at 7.2 V (= 37.5 Wh)
Input voltage:
10.5 V to 20 V direct current
Weight:
2 kg
Dimensions:
361 x 222 x 49 mm (W x H x D)
The Bosch DCU100 is available in the following packages :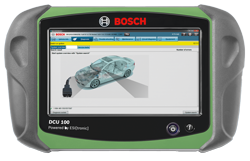 Bosch DCU100 Stand Alone
The DCU100, without any extra modules.
Software not included.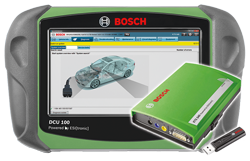 Bosch KTS 440 - DCU100 with KTS 540 Module
An entry level package offering a rugged tablet PC with wireless diagnostics capability.
Software not included.