Texa Axone 5 Diagnostic Tester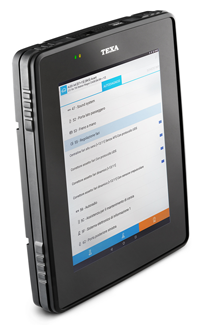 Texa Axone 5 Diagnostic Tester
AXONE 5 is the new display unit designed by TEXA for all the diagnostic operations on the vehicles belonging to the CAR and BIKE environments. It is an extremely easy-to-use tool, manufactured with latest-generation components to ensure accurate repair operations to the highest standard.
AXONE 5 is proposed to workshops at an excellent price/quality ratio along with the reliability and user experience that are typical of TEXA products.
It is a solution within everyone's reach, ideal for the most expert and demanding users but also for mechanics who have just opened a new business.
Excellent Components
The quad-core ARM® Cortex® A9 processor with graphics accelerator provides the tool with computing power and efficiency in resource management.
The latest-generation 9.7 inch capacitive touch screen with a resolution of 2048x1536 pixels guarantees ultimate definition and total precision to the touch.
Its powerful batteries allow using AXONE 5 for a whole working day (8 hours in typical use). The tool is also equipped with Bluetooth module and high performance Wi-Fi that ensure high-quality connectivity in terms of reception and stability.
Robust and Versatile
Robust and practical outside, powerful and intuitive inside. AXONE 5 is the perfect companion for the specialists in the diagnosis of CAR and BIKE.
Its exceptional technical features, together with its user friendliness, ensure rapid and effective interventions.
AXONE 5 is a trusted companion for the professional that operates in a tough working environment, in mobility and outside. Equipped with an anti-slip surface that makes it steady to handle, it is resistant to shocks and falls.
IDC5a PLUS: plus everything!
IDC5a PLUS is the evolution of the IDC5 software specifically developed for AXONE 5, to ensure smoothness when usingthe tool, intuitive controls and gestures and the fastest loading speed.
AXONE 5 is based on the Android operating system, renowned for its ease of use. The union of AXONE 5 and IDC5a PLUS guarantees the best diagnostic coverage available on the market for the CAR and BIKE environments.
Mechanics can use complete support to their repair interventions through a wide archive of technical data and the most advanced diagnostic functions, also thanks to the continuous growth of the TEXA APP offer.
AXONE 5 TECHNICAL SPECIFICATIONS
Quad Core ARM Cortex-A9 processor with
2D/3D graphics accelerator
2GB RAM memory
64GB solid state drive
Android Marshmallow 6.0.1 operating system
Button with ON/OFF and RESET functions
9.7 inch display, resolution 2048x1536 pixels
Red LED as charging indication and red/green/blue LED for notifications
Speaker
3-axis gyroscope and accelerometer
3-axis magnetometer
Dual band Wi-Fi module
Bluetooth module
Camera with flash and 5-megapixel autofocus
Battery lasting 8 hours of typical use
External connector for power supply, battery charging
USB connector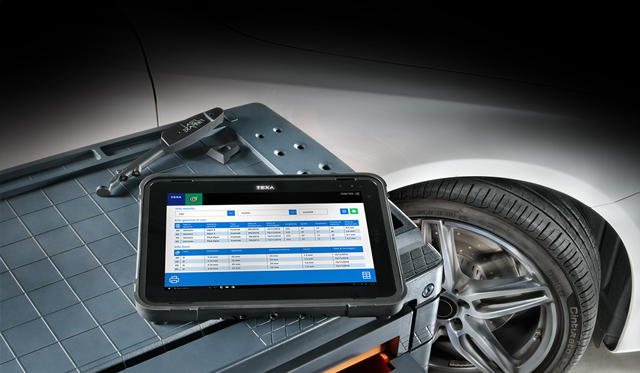 Texa Laser Examiner
The Laser Examiner is a small practical tool to objectively measure brake disk wear with an accuracy of a tenth of a millimetre without having to remove the wheel from the vehicle. You can also measure tire tread wear using a simple adapter.
This tool integrates perfectly with the Axone 5.
For more details, visit the Texa Laser Examiner page.