Bosch KTS200 Diagnostic Tester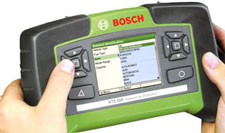 Bosch KTS200 Diagnostic Tester
Overview
Easy to Use - Fast Operation & Accurate Results.
ECU diagnosis on the vehicle becomes easier than ever before. With a weight of less than 1 kilogram, the KTS200 combines extremely high performance with a highly intuitive operation.
For reliable, fast and comprehensive ECU diagnostics on the majority of modern vehicle systems, covering all types of ECU based electronic systems on 55 different manufacturers.
The KTS200 offers a simple and inexpensive introduction to diagnostics from Bosch.
Kit Contents
KTS200 Handheld Terminal
Strong, Custom Made Carrying Case
Operating Manual
16 pin OBD Lead
USB Upload Lead / PC Transfer Lead
Power Supply
Applications
Today's daily workshop operation is impossible without an efficient and easily handled testing device. The new KTS200 is light, robust, compact and at the same time provides a high level of ECU diagnosis. It's strength lies in its ability to diagnose petrol and diesel systems, covering Engine Managment, Airbag, ABS, Body Control, Chassis Network, Driver Safety & Comfort Controls.
Offering:
System Identification
Error Memory Read & Erase
Live Data
Actuator Operation
Basic Settings
Adaptation & Adjustments
Coding
The new KTS200 is geared to the growing proportion of electronics in the vehicle. With its high level of ECU diagnostics and the new, simple menu navigation, it offers a practical entry into modern testing technology.
Data Capture, Saving & Print
Another feature of the KTS200 is the ability to save essential data and download to the 'Start Centre' software loaded onto your PC.
Using the USB loading lead, you can transfer data to review and store, or print out for your customer records.
Technical Specifications
| | |
| --- | --- |
| Computer : | Embedded System |
| Display : | 3.5" colour LCD display 1/4 VGA with 320x240 pixels |
| Operation : | Keyboard with 4 cursor keys, selection keys duplicated for left and right handed operation, 2 function keys |
| Dimensions & Weight: | 220 x 140 x 40 mm (WxHxD), 600g |
| Supported diagnostic protocols : | ISO 9141-2, K and L-lines flash code SAE-J1850 VPW (GM,..), SAE-J1850 PWM (Ford), CAN-ISO 11898 ISO 15765-4 OBD, Highspeed, Middlespeed, Lowspeed and Singlewire CAN |
| Connections : | OBD, USB, Power Supply |
| Voltage supply : | 12-24v via plug, OBD socket for Mains power |
| Languages : | all 23 ESI[tronic] languages |
Software Packages
Powered by ESI[tronic] software
The car is increasingly becoming a "computer on wheels". In many cases , therefore, professional vehicle servicing and diagnostics is only possible with modular and customized software.
The KTS200 is supplied with preinstalled ESI[tronic] software. This makes operation of the KTS200 particularly simple and fast. Key functions are displayed on the screen. For each of the Service packages, all essential information about the control units and special functions, e.g. engine/brake systems, are available.
Software Renewals
Choose from 3 different software options, designed to give up complete flexibility in the way you pay for annual software :
Annual Subscription
Purchase Annually
Includes 3 updates each year offering the latest applications to the most modern vehicles.
Software must be purchased each year.
3 Year Subscription
Purchase 3 years software and save £1,290.00
Includes 9 updates (3 per year for 3 years)
This option will offer the very latest software & applications for 3 years
New software must be purchased after the 3 year period expires
One Time Purchase
Purchase the very latest software version at the time of purchase - the tester will now continue to operate on this software version for life.
When you are ready to update - purchase any of the software options.