Bosch KTS340 Diagnostic Tester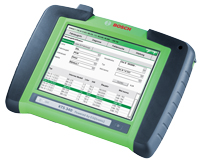 Bosch KTS340 Diagnostic Tester
All-in-one solution for ECU diagnostics, troubleshooting, repair and maintenance.
This new diagnostic tester is an ideal tool for anyone that currently services vehicles and wants to add excellent diagnostic ability to their services.
The KTS340 is an excellent blend of in-depth diagnostic ability and features to carry out servicing such as service reset, steering angle, brake callipers and a vehicle information package for maintenance, service schedules, technical bulletins and trouble shooting.
Software
Bosch software is renowned across the world as the best diagnostic information available. In addition to the SD diagnostic software that runs the KTS platform there are other very valuable software packages to enhance your diagnostic experience.
SIS - Diagnostic trouble shooting and repair information with 4 updates per year
M - Vehicle mechanical and service information
P - Vehicle wiring diagrams for body electrics
TSB - Technical service bulletins
A tester for all purposes
This is a true multifunction tester and ideally suits independent workshops, fast-fits or anyone wanting to mix servicing and diagnostic repairs.
In-depth diagnostic ability with fault code reading and clearing, live data, actuator operation and much more for a huge range of vehicles.
Service related diagnostics such as service light reset, electronic brakes, brake bleeding, steering angle, ABS, airbag and much more.
2 Channel multimeter for parallel component testing including resistance, current & voltage
Information on vehicle details, systems information, diagnostic socket location and diagrams
Maintenance information package giving service schedules, belt schematics, settings, pressures and quantities.
Technical Service bulletins, rapid access to well known faults with description of causes, test repair procedures and visual support screens.
Top Quality features
Huge vehicle application list
Multi system diagnostics, Engine, body, comfort, security etc
Easy to operate with intuitive screens
Tablet PC based diagnostic tester
Large 8.4" TFT colour touch screen 
Built in 2 channel multimeter
16 pin OBD diagnostic lead
Built in Can multiplexer
Built in battery with 2 hours life
Wireless ready for printing service schedules and screen shots
Quarterly updates via DVD
Strong carrying case
All information integrated and available
In daily practice, it is essential to have quick and simple access to all information necessary for the current job. This market requirement is met perfectly by the KTS340: Through merging ECU diagnostics, troubleshooting repair and maintenance.
Ready to cope with the trends in vehicle electronics
The main reasons for the increase in electronic systems in the vehicle are higher requirements for safety, comfort and pollutant reduction on the part of customers and legislators. Car manufacturers create an appropriate brand image to increase new-car turnover. Workshops with a command of innovative systems open up new chances in service.
ESI[tronic] software makes it easy
The KTS340 can be operated easily thanks to the clearly arranged and structured software. This starts with the standardized, optimized vehicle identification.
The workshop easily manages all types of information for fault-finding: Whether from the system overview direct to diagnostics and troubleshooting, from troubleshooting and the maintenance schedule direct to diagnostics, or from diagnostics direct to component repair.
Information and measuring technology:
Everything is possible
Complete equipment for daily workshop operation: The new KTS340 provides all necessary information and the measuring technology for ECU diagnostics, guided troubleshooting, repair, maintenance and service.
Workshop-compatible for modern systems
The tester is tailored to repairs with ECU diagnostics software, fault-finding instructions, maintenance information and integrated multimeters. And everything is guided by new, practical menu navigation tuned to work sequences in the workshop.
Technical Data
Board :
operating system Linux, 8 GB SD Card
Display :
8.4" TFT color display with touchscreen
Resolution :
SVGA 800 x 600 dpi
Equipment :
Integrated 2-Channel-Multimeter, WLAN (in preparation)
Status indicator :
Via 2 LEDs: On/Off, mains operation, battery charge status
Operation :
Touchscreen, 1 membrane key (On/Off)
Battery :
Service life depending on charge status and application approx. 1 to 2 hours, 8 x AA cells, commercially available
Housing :
Stable plastic housing, integrated impact protection
Dimensions :
290 x 67 x 214 mm (W x D x H)
Operating temperature :
0 to 40 °C
Weight :
approx. 2 kg
Diagnostics protocols :
ISO 9141-2, K/L lines, flashing code, SAE-J1850 VPW (GM, ...), corresponds to ISO 11 519-4
SAE-J1850 PWM (Ford), corresponds to ISO 11 519-4
CAN ISO 11898 ISO 15765-4 (OBD)
Highspeed, Middlespeed, Lowspeed and Singlewire CAN
KTS340 Diagnostic Tester Connections
Mobile power supply and mains connection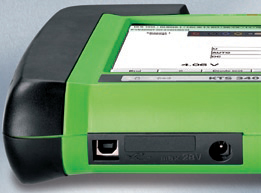 Connections: USB for PC and printer, card slot and mains operation
Can be used everywhere for around two hours with an alternative supply from two internal commercially rechargeable batteries (AA cells NiMh). Supply also during diagnostics via the OBD cable. Mains connection: Port jack for power supply unit and charging contacts for supply via charging tray.
Multimeter function: Ideal in the test procedure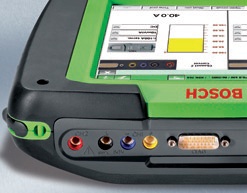 For fast measurements: Multimeter
Connections in channel 1: Socket yellow (+) and blue (-), channel 2: Socket red (+) and black (ground). CAS[plus] also makes the multimeter function available directly on the troubleshooting interface: Resistance, current and voltage values with automatic target-actual comparison. The measured values can also be displayed as curves.
Wireless and mobile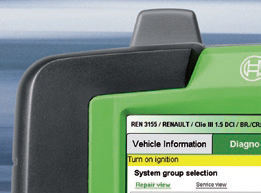 WLAN: Always connected
About WLAN (in preparation), e.g., protocols and maintenance plans can be printed out wirelessly via PC.
Adapter: Equipped for the future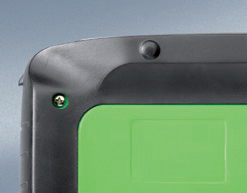 The adapter is located on the rear side of the housing
The current adapter is integrated in the housing. Fast updating is possible at any time following changes to vehicle interfaces. The OBD adapter is the same as with the radio modules of the KTS 5 series.