Bosch BAT115 Battery Tester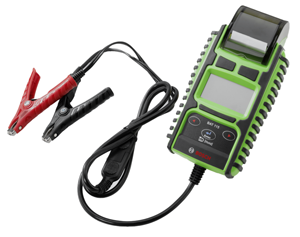 Bosch BAT115 Battery Tester with Integrated Printer
The battey service presents demanding challenges for the tester used today. No voltage spikes that can result in sensor malfunctions may occur during charging.
Bosch battery chargers allow starter batteries to be charged carefully even while installed. High power reserves translate into successful starting assistance under all temperature conditions.
When testing the state of the battery, flexibility is decisive: Bosch battery, flexibility is decisive: Bosch battery testers allow both 12V starter batteries and alternators with rated output of 12V to be tested quickly and easily.
The Bosch BAT115 battery tester enables easy testing of 6V and 12V starter batteries. Leadacid, EFB, Gel as well as AGM batteries. 12V and 24V charging systems can also be tested.
Features:
Various tests for 6 V and 12 V batteries as well as 12 V and 24 V starter and charging systems
Micro-Load tests for reliable measurement results "
Practical due to large LCD screen and user-friendly menus "
Integrated printer for printing the test results
Menu-guided intuitive operation in 25 languages
Large working radius due to 1.8 m test cable
Robust housing, long-lasting technology
Technical Data
| | |
| --- | --- |
| Battery nominal voltage | 6 V/12 V |
| Application | Passenger car/ light commercial vehicle, motorcycle, marine |
| Test standards | EN, EN2, DIN, SAE, IEC, JIS, MCA |
| Battery types | Lead-acid, EFB, Gel & AGM (flat and spiral) |
| Battery size (In acc. With CCA) | 40-2000 A |
| Printer | Integrated thermal printer |
| Starting/charging system test | 12 V/ 24 V |
| Menu Languages | 25 |
| Dimensions (LxWxH) | Approx. 250x130x60mm |
| Weight approx. | 1100 g |
| Operating temperature | 0° c-40 ° c |