GYS PBT700 Battery Tester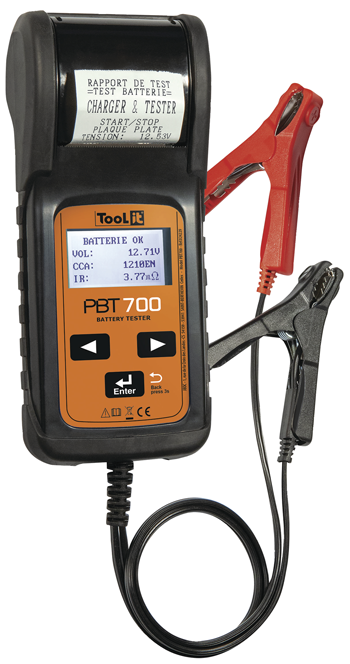 GYS PBT700 Battery Tester
Professional battery tester providing highly-accurate results and with in-built printer.
Features
Battery 12 V : voltage test and state of charge.
Starter 12 and 24 V : test of the start voltage.
Alternator 12 and 24 V : test of no load voltage and charging voltage as well as current undulation during the charge.
Printout of the results using integrated thermal printer (no ink required).
Instant Analysis
Battery voltage (8 V to 30 V)
Available starting power
Charge state and battery health (%)
Battery Types
Compatible with multiple types of lead-acid battery ranging from 7 to 240 Ah :
VRLA / GEL / AGM FLAT / AGM SPIRAL / SLI sealed batteries
STANDARD LIQUID batteries
START / STOP batteries (EFB / AGM)
Operating Range:
EN : 40 > 1885 CCA
DIN : 25 > 1120 CCA
SAE/CCA : 40 > 2000 CCA
JIS : japanese battery
IEC : 30 > 1320 CCA (international standard)
CA/MCA : 50 > 2400 CCA (marine battery)
Highly Accurate
Automatic compensation for external temperature.
Advanced dynamic resistance measurement technology minimises battery discharge and displays an accurate result which is unaffected by :

the surface charge
Vehicle consumers (lights, various indicators, etc)
Contact imperfections (worn out terminals / lugs, unfastened lugs, etc)
Practical
Insulated clamps
Large backlit display screen
Adjustable screen brightness
Full test report showing date/time and personalised name
Multilingual interface (10 languages)
Protected against polarity reversal.
ABS case (acid resistant) and protection against shock