DBT 350 Professional Battery Tester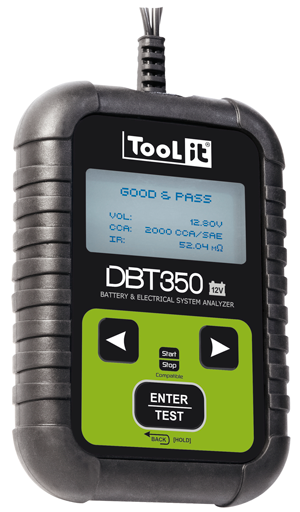 DBT 350 Professional Battery Tester for AGM/EFB, Stop Start batteries
Professional Battery Tester providing highly accurate measurements. Suitable for 12V cars, camper vans, vans and trucks.
Features:
Battery 12 V: test of the voltage and state of charge.
Starter 12 & 24 V: test of the start voltage.
12 & 24 V Alternator: tests no load voltage and charging voltage as well as current undulation during the charge.
Instant Analysis
Battery voltage (8 V to 30 V)
Available starting power
Charge state and battery health (%)
Battery Types
Compatible with 3 types of lead-acid battery ranging from 7 to 230 Ah:
VRLA / GEL / AGM FLAT / AGM SPIRAL sealed batteries
STANDARD LIQUID batteries
START / STOP batteries (EFB/AGM)
Operating Ranges
EN : 40 > 1885 CCA
DIN : 25 > 1120 CCA
SAE/CCA : 40 > 2000 CCA
JIS : japanese battery
IEC : 30 > 1320 CCA (international standard)
CA/MCA : 50 > 2400 CCA (marine battery)
Highly Accurate
Automatic compensation of external temperature.
The dynamic resistance measuring technology minimises battery discharge and displays a reliable result unaffected by:

surface charge
vehicle consumers (lights, various indicators, etc)
contact defaults (worn out terminals/ lugs, unfastened lugs, etc)
Practical
Insulated clamps
Large backlit «4-line» display for better viewing
Adjustable screen brightness
Retroactive «ENTER» key
Multilingual interface (10 languages)
Reverse polarity protection
ABS housing (acid-proof) + shock protection