KeyDIY Remote Generating System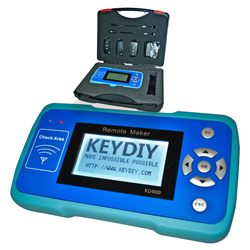 KeyDIY Remote Generating System
If you are a garage, diagnostic centre, shoe repairer with a key service or an automotive locksmith, you will be all too aware of the vast range of differing remote part numbers & styles required to cover todays vehicles.
If only there was one remote that would replace all these varying remotes........... Well now there is!
With the KeyDIY system one single remote can be made into multiple different part numbers, ensuring you always have the correct stock to hand!
Applications
Audi
BMW
Ford
Honda
Hyundai
Jaguar
Kia
Mazda
Mercedes
Nissan
Seat
Skoda
Toyota
Vauxhall
VW
Please see the full application list below.
Benefits of the KeyDIY system are :
One remote covers most of of the popular applications including Audi/VW Group, BMW, Ford, Honda, Hyundai, Kia, Mazda & Toyota to name a few.
Stylish remotes with quality bettering the OE supplied remote in many cases
Massive stock reduction & savings
Coverage greatly increased with ability to create parts that would normally be ordered specially
8 unique remote designs available
Remote Generators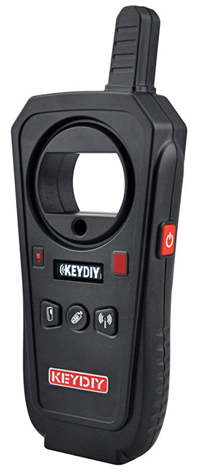 KD-X2
The KD-X2 is a remote generator with built-in cloning facility. Basic functions include:
Wired Generation
Wireless Generation
Mobile Phone Simulation
Garage Door Generation
Proximity Key Unlock
Frequency Detection
Infrared Detection
Access Card Copy
Fixed Code Remote Copy
Online HCS Remote Copy
Online Chip Copy ( 96 bit 48chip, 46chip, 4Dchip, Toyota chip etc. )
Chip Generation
Chip Editing
Chip Simulation
lgnition Coil detection
Remote Data Backup
Additional Functions Will be Available in Succession
Free Activation of 96 Bits 48 Transponder Copy. (No Token Needed)
Technical Specification
Power supply: 2600mAh lithium battery; Charge method: USB 5V/1A
With 0.91inch OLED display screen
Bluetooth BLE4.0 inside, work with mobile KD app by bluetooth connection
Can work with PC software by USB-B connection, and work with Android phone or tablet and IOS by OTG connection
With PS-2 interface for connecting remotes to generate
Three functional shortcut buttons: chip identification, remote identification and frequency detection.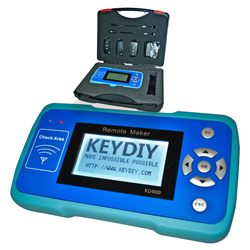 KD900 Handheld Remote Generating System
The KD900 is the latest tool in the range of the KeyDIY remote generators. It has the benefit of being hand held and stand-alone, therefore being able to be carried on most occasions without the need for a PC or laptop, making it the ideal choice for the mobile locksmith.
The KD900 will program the full range of remotes by following a quick and simple procedure with on-screen instructions, allowing you to create the remote you require using the remote style you and your customer prefers.
The KD900 comes complete with a rugged case, operating instructions, a range of the 3 most popular remotes and a range of 24 different blades.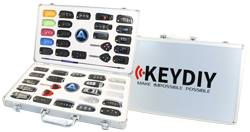 KeyDIY Display Case
40 Key Diy remotes presented in portable carry case. Ensures that you always have a good selection of Key DIY remotes to offer your customers and gives an instant physical indication of stock level.
Supplied with a range of Key DIY remotes and a selction of key blades plus a KD Mini for use on an Andriod mobile phone
KeyDIY Blades and Remotes
There are many different designs of remote to choose from, enabling you to select a style that either matches the original remote or a style your customer prefers. The B series remotes require an appropriate transponder to be fitted. The BN series remotes are fitted with ID46 transponder. They require KP14 (CR2032) batteries.