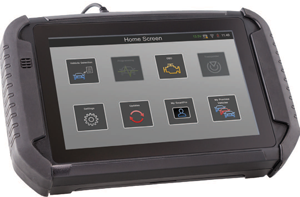 The state of the art OBD vehicle key programmer that works with most vehicle makes and models worldwide
Smart Pro is the cutting-edge, easy-to-use device for easily programming transponder keys, proximity keys and remotes and for reading the PIN codes for numerous manufacturers. It features an intuitive touch screen user interface and incorporates the entire Advanced Diagnostics Info Quest database with over 5000 vehicle models.
It is a flexible, all-in-one solution offering the user a combination of purchase options.
Easy to use software interface
Smart Pro features a 10-inch colour touch screen guiding the user through a simple step-bystep sequence for all the key programming functions and procedures. The graphical user interface is intuitive and the software is available in multiple languages. Easy-to-read icons clearly indicate whether the device is successfully communicating with the vehicle or not.
All information in one place
Smart Pro incorporates AD Info Quest, a constantly updated database containing over 5000 vehicle model details.
Extensive functionality
Smart Pro programs transponder, proximity and slot keys and remotes and reads PIN codes for numerous manufacturers. Further functions include ECU identification, EOBD read and clear fault codes (manufacturer dependent), and archive of previously programmed vehicles.
External port for increased potential
Smart Pro features an expansion port and slot for Smart Aerial, so the user can read, preset and precode transponders without the need of other devices. The advanced, integrated security system means no other dongles or smartcards are required.
High performance hybrid
Smart Pro is an all-in-one, hybrid solution offering the flexibility to choose from a number of purchase options. You can opt for pay-as-you-go tokens, various UTP (Unlimited Token Plan) packs or you can simply purchase the software modules you use most. You can also change from one system to another according to the evolution of your business.
Quality materials
Smart Pro is supplied in a hard body carry case with internal rubber shaped slots for putting all the tools necessary to program keys and remotes. The screen is made of gorilla glass, a resistant and long-lasting material.
Easy to power
Power is supplied to Smart Pro via the OBD port, mains cable or an internal battery that gives two hours of stand-alone use.
Fast programming procedures
The powerful quad core processor, new hardware and software architecture are designed to save you time. By integrating key programming and PIN reading functions for most makes into one step, the programming process is significantly faster.
All information in one place thanks to the integrated IQ database
All the information needed to program a key is collected in one place, always updated and immediately available. Smart Pro incorporates Advanced Diagnostics Info Quest, a constantly updated database containing over 5000 vehicle model details with information such as vehicle OBD port location, key photos, VIN and engine codes, programming tips, compatible key blades and transponders.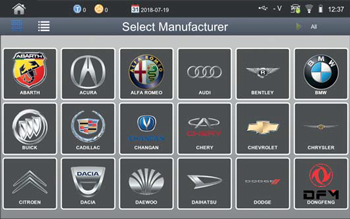 Select Manufacturer
You can select the vehicle of interest by accessing an icon driven page with the logos of manufacturers or a grid, alphabetically ordered, with highlights of the latest software modules.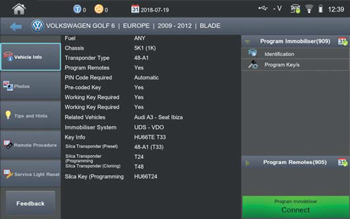 Vehicle Info
A simple grid provides all the information to identify the vehicle you want to program, including VIN number, transponder type, immobiliser system, Silca transponder and key reference.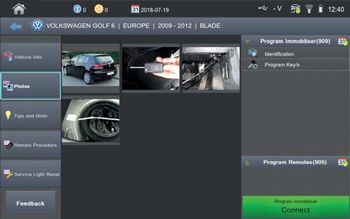 Photos
The software includes a number of photos that will help you identify the vehicle of interest, where the OBD port is located, what types of keys and remotes are available on the market.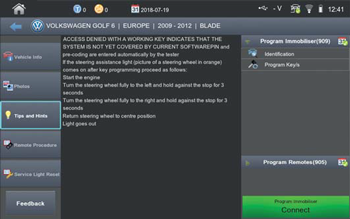 Tips and Hints
Advanced Diagnostics expertise at your fingertips: this section provides pieces of advice and suggestions for carrying out all the programming procedures in a more streamlined way.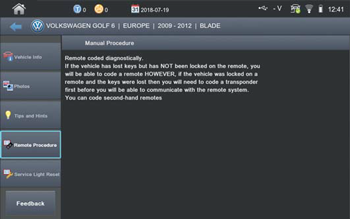 Remote Procedure
This function illustrates all the steps to follow for programming the remote. All the procedures have been carefully tested by AD for Fully compatible with the entire Silca automotive offer accurate results. The procedures are icon driven and intuitive.
Other Software Functions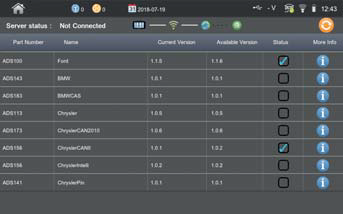 Guided updating procedure
Smart Pro can be updated via Wi-Fi with step-by-step guided procedures or via PC using the USB cable supplied. When updates are available a notification will appear, while a tick in the status column identifies the modules requiring an update.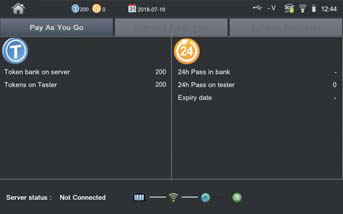 MySmart Pro and archive
The My Smart Pro section helps keep an eye on token credits, currently active UTP plans, expiry dates, and purchased software modules. Customised data archives and favourites grant easy access to the most frequently used programming procedures.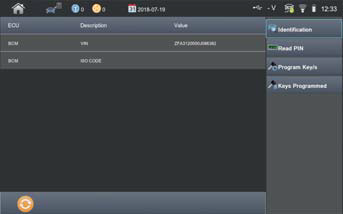 Electronic On Board Diagnostics
The EOBD functions help you read and clear faults not related to the immobiliser. When a fault is detected, the software shows its identification code and description, so you can always make sure the key or remote has been programmed correctly.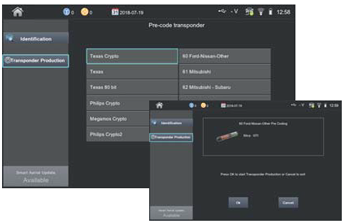 Optimised transponder management
Smart Pro incorporates transponder identification, presetting and precoding functions for a more streamlined process. Just connect Smart Aerial to the device and follow the instructions. The following transponder types are supported: Texas®, Texas® Crypto, Texas® 80 bit, Philips® Crypto, Philips® Crypto 2 and Megamos® Crypto.
Expansion ports and function buttons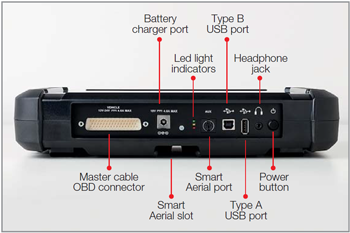 Led light indicators and battery
Smart Pro features three led lights indicating:
GREEN light, slow flashing: the device is on
GREEN light, fast flashing: device is working
RED light, single flashing: battery low
RED light, fixed flashing for longer than 10 seconds: hardware error, contact distributor -
YELLOW light, fixed: battery fully charged
YELLOW light, flashing: battery charging
Please note that if the green light doesn't switch on and the red light turns on briefly, it means that the battery is fully out of power and must be charged with the AC/DC feeder. We recommend that you charge your device periodically to avoid interruptions or malfunctions while programming.
Scope of Delivery
Smart Pro comes supplied in a hard body carry case together with all the necessary cables and connectors to start working immediately. The case includes:
Smart Pro device (AD2000)
Mains cable (ADC2009)
OBD cable (ADC2000)
AC/DC power supply unit (ADC2006)
USB cable (ADC2004)
50 way to 25 way converter (ADC2001)
Pin saver (ADC2002)
USB flash drive operating manual
Printed quick start guide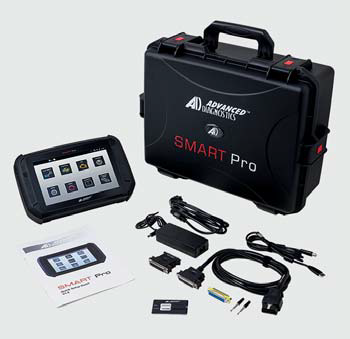 Starter Kit
3 Months Free UTP
10 Free Softwares (as detailed below)
OBD Master cable, Mains cable & charger
USB Operating Manual
Hard Body Carry Case
Comprehensive Kit
Buy a comprehensive Smart Pro kit and have the 1st year completely free of programming charges saving £-365. This give users the opportunity to practice and create their business free from the worry of token costs. This makes starting your programming service easier to build and offers the ability to completely cover the costs of the equipment within months of purchase.
12 Months Free UTP
10 Free Softwares (as detailed below)
OBD Master cable, Mains cable & charger
USB Operating Manual
Hard Body Carry Case
Full Kit
The full kit has all the benefits of the comprehensive kit with the added advantage of including the smart aerial for transponder reading and writing, the force ignition and instrument reset cable for VAG programming and special programming cables that are occasionally needed.
12 Months Free UTP
10 Free Softwares (as detailed below)
ADC242 Smart Aerial
ADC222 Forced ign unit
ADC219 VAG instrument reset cable
ADC2118 Nissan programming cable
ADC2010 Rover/landrover programming cable
OBD Master cable, Mains cable & charger
USB Operating Manual
Hard Body Carry Case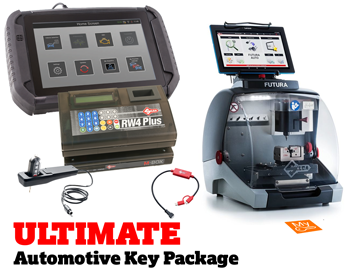 The Ultimate Automotive Key Package
There are many ways to justify the payback of this key package. These are 2 scenarios that we feel demonstrate that a low level of business will quickly cover the equipment costs:
On average, 3 jobs per month will pay for the equipment lease purchase plan
At an average profit of £80 per job, 134 jobs will meet the total equipment cost. That's less than 1 key per week.
What's Included
Silca Futua Automotive Key Cutting Machine
Advanced Diagnostics Smart Pro Key Programming Machine with 3 Years Unlimited Token Plan
Advanced Diagnostics Smart Aerial
Silca RW4+ Key Cloning Machine
Silca Remote Programming Cable
3 Years Subscription for Mr Keys Pro Online Support System
12 Months Extended Warranty and Technical Support
12 Months Loan Tester for Programming / Cloning Machine in the Event of a Machine Failure
Trade-In Deals
If you own an existing AD100Pro or MVPPro, you can trade in that machine for a new Smart Pro.
Please contact our sales office on 01823 328530
Tailored Purchase Options
Smart Pro offers a tailored and flexible purchase solution to suit your needs. You can buy software kits or individual modules, top up with tokens or buy UTP (Unlimited Token Plan) packs, transforming the programmer into a fully loaded device with 100% coverage of the current Advanced Diagnostics software available.
Safeguard previous investments
Customers who already have an Advanced Diagnostics programmer can transfer their software modules, Tokens or UTP onto Smart Pro, safeguarding their previous investment.
Start-up offer
Smart Pro is supplied with a free UTP. On expiry, there's the flexibility to choose from a number of purchase options, using them simultaneously if necessary. Smart Pro comes with 10 individual software modules included free of charge.
UTP expiry and Tokens use up
Pop-up messages warn customers in advance when the Tokens are about to finish or the UTP is about to expire. The device will stop working if the UTP is not renewed and no extra tokens are available. The 10 software modules supplied will continue to be available.
Free software modules
The 10 modules included are:
ADS100 Ford® Europe/USA
ADS102 General Motors
ADS105 Peugeot/Citroën
ADS109 Suzuki
ADS110 Honda/Acura
ADS112 Nissan
ADS115 VAG
ADS117 Mitsubishi
ADS118 Hyundai®/Kia
ADS125 Toyota®/Lexus
Purchase Options
Unlimited Token Plans (UTP)
24 Hour UTP Packs (5 days per pack)
UTP Subscription (monthly or annually)
Pay As You Go
Purchase Software
Individual Software Modules
Software Kits
Click here to see the Smart Pro Software Price List
No. of Tokens
Price
10

£260.00


(£26.00 per Vehicle)

25

£380.00


(£15.20 per Vehicle)

50

£650.00


(£13.00 per Vehicle)

100

£1150.00


(£11.50 per Vehicle)

250

£2275.00


(£9.10 per Vehicle)

Unlimited (Annual)

£1970.00


Unlimited for 12 months
(Terms Apply)

Unlimited (6 Months)

£1035.00


Unlimited for 6 months
(Terms Apply)

Unlimited (3 Months)

£570.00


Unlimited for 3 months
(Terms Apply)

Unlimited (Monthly)

£205.00


Unlimited for 1 month
(Terms Apply)
Please Contact Us to Order
5 x Unlimited (24 Hours)

£205.00


Unlimited for 1 month
(Terms Apply)
Optional Items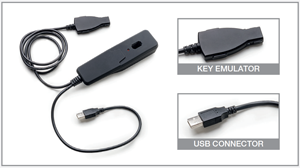 ADC260 Mercedes Solution
The Smart Pro Mercedes Solution is the fast, reliable way to programme slot keys compatible with Mercedes models produced from 1996 to 2014.
It requires the combined use of the Smart Programmer device, the dedicated Mercedes software module ADS2298, the Silca slot key HU106S23, and the Smart Pro.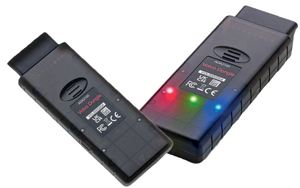 ADA2100 Volvo Dongle
Advanced Diagnostics is pleased to announce a timesaving solution for programming Volvo slot and proximity keys. The dongle connects directly to the vehicle OBD socket to read the security data from the vehicle ECU, freeing up Smart Pro for other jobs.
The dongle will store the reading session. No data is lost so the job can be done in several sessions if needed. Once the security reading is complete the Volvo dongle is connected to the Smart Pro to transfer the security information. The key programming procedure is then completed by following the guided process in Smart Pro.
Note: For Smart Pro only
ADC242 Smart Aerial
The Smart Aerial has been developed to be used with the Smart Dongle (ADC241) to provide locksmiths and diagnostic specialists with an ability to write pre-coding data and other information onto transponders found within the vehicle key.
In particular the Smart Aerial is able to pre-code Fiat and VAG transponders from the electronic memory of the vehicle. By reading the pre-coding stored in the vehicle and writing to a blank transponder a vehicle specific transponder can be created and programmed without delay.
Functionality
Pre-codes ID46 & ID48 transponders
Connects via Smart Dongle
Requires key programmer
Requires specific vehicle softwares
Plug & play, automatically configures
Technical Data
Key slot antenna frequency 125kHz
Connection via smart dongle
Dimensions length 185mm, width 44mm, depth 27mm.
Weight 124g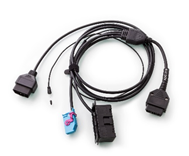 ADC219 - VAG Instrument Reset Cable
The ADC219 VAG Instrument Reset Cable is designed for use on an "all keys lost" situation on VAG vehicles with UDS & Micronas protocol vehicles. The cable connects to the AD100Pro / MVPPro tester and the vehicle's OBD port and is specifically used in a lost key situation for various VAG group vehicles.
The ADC219 cable is designed to be used with ADS230 Cat C software and Smart Dongle.
Features
ADC219 instrument reset cable is developed specifically for use on selected VAG® vehicles when all vehicle keys have been lost.
The cable has been designed for advanced auto locksmiths who have a good working technical knowledge of removing, disassembling and re-fitting instrument clusters from vehicles.
The cable is used to probe a specific pin located on the PCB board on the reverse side of the instrument cluster in order to put the vehicle into service mode, before a working key can be generated.
You must also have ADC230 software & ADC240 Smart dongle
Notes
Due to the number of cluster variations fitted to VAG group vehicles, AD cannot guarantee 100% coverage for ADC219 / ADS230 in a lost key situation for the vehicles listed in the application list. The cable has been designed for intermediate or advanced auto locksmiths who have a good working technical knowledge of removing, disassembling and re-fitting instrument clusters from vehicles.
Important Note: To Prevent damage to the Smart Dongle, ensure that the ignition is turned off when connecting the tester to the vehicle.
Applications - Skoda
VAG ADS230 Software Used with ADC219 Cable and OBD Lead
Skoda Fabia II Facelift (54) 2010 - 2013
Skoda Octavia II (1Z) 2006 - 2009
Skoda Octavia II (1Z) 2009 - 2013
Skoda Rapid (NH) 2012 - 2013
Skoda Superb II (3T) 2008 - 2013
Applications - Seat
VAG ADS230 Software Used with ADC219 Cable and OBD Lead
Seat Alhambra (7N) 2010 - 2013
Seat Cordoba (6L) 2005 - 2009
Seat Ibiza (6J) 2009 - 2013
Seat Ibiza (6J) 2014 - Onwards
Seat Leon (1P) 2005 - 2009
Seat Leon (1P) 2010 - 2013
Seat Toledo (5P) 2005 - 2009
Seat Toledo (5P) 2010 - 2013
Applications - VW
VAG ADS230 Software Used with ADC219 Cable and OBD Lead
VW Amarok (2H) 2010 - 2013
VW Caddy (2K) 2003 - 2009
VW Caddy (2C) 2010 - 2013
VW Eos (1F) 2005 - 2009
VW Eos (1F) 2009 - 2013
VW Golf 5 / Jetta / Bora (1K) 2006 - 2009
VW Golf 6 / Jetta / Bora (5K) 2009 - 2012
VW Passat USA (NM) ADC250 2010 - 2013
VW Polo (6R) 2009 - 2012
VW Scirocco (16) 2008 - 2009
VW Scirocco (16) 2010 - 2013
VW Sharan (7N) 2010 Onwards
VW Tiguan (5N) 2007 - 2009
VW Tiguan (5N) 2010 Onwards
VW Touran (1T1 and 1T2) 2006 - 2010
VW Touran II (1T3) 2011 - 2013
VW Transporter T6 (7E) 2010 - 2013
Technical Specification
| | |
| --- | --- |
| Power Supply | 120V-230V - 50/60Hz, mains adapter included |
| Battery | embedded 3.65V 5.3Ah rechargeable lithium ion (Li-Ion) battery (not be tampered with by the user) - user-replaceable 14.4V 3.2Ah lithium-ion (Li-Ion) battery sufficient for 2 hours stand-alone use, chargeable via vehicle or mains |
| Processor | quad core ARM |
| Memory | 2GB RAM |
| Storage | 32GB SSD |
| Vehicle support | 12V (cars) - 24V (trucks) |
| Screen | 10.1", 1280 x 800 pixel, colour LCD, PCAP touch panel |
| External ports | type A and B USB ports, Smart Aerial port and slot, headphone jack, master cable OBD connector, battery charger port |
| Connectivity | Wi-Fi: 802.11 b/g/n (2.4 GHz) - Bluetooth: 4.1 Compliance |
| Dimensions | width: 322 mm, depth: 203 mm, height: 68 mm |
| Weight | 2,9 Kg |
| Suggested temperature | storage: from -20°C to 50°C, operating device: from -5°C to 40°C |
| Certifications | CE Smart Pro has been designed and manufactured in conformity with CE mark European standards and is CB and RoHS certified. |