Locksmith Through The Door Sets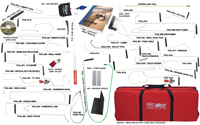 Super Combo Complete Set
The Access Tools Super Combo is the most popular lock-out set for years. With the included car opening manual, all basic openings are clearly outlined so you can get into and out of cars easily. It comes with all in-the-door metal tools, including 5 new tools with the patent pending Piranha Grip™. The Super Combo Complete Set have everything you need to get into vehicles of every make and model, covering most vehicles from 1979 to the present.
The Super Combo also comes with the most common accessories, necessary to achieve a successful opening without hassle and within a reasonable time. These include the Wedgee, the Air Jack Air Wedge, Slim Jim, One Hand Jack Tool, Glassman tool for frameless windows, and a few more.
22 chrome tools with Sure Grip handles. Two of them with the new Piranha Grip.
9 advanced chrome tools
Printed manual with all auto and heavy truck openings
Auto opening training DVD
Strip tool
Wedgee Wedge
Tool ID system
Coated flexible long reach tool
One-hand jack tool
Air wedge
Glassman tool
Strip savers
Wonder shield
Power grip
Slim jim
New copper loop tool
Mega deluxe soft case
6 months subscription online manual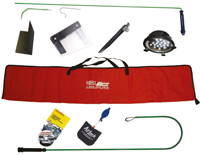 European Car Opening Set
The new European Car Opening kit was designed with European vehicles in mind. These high quality kits are ideal for Breakdown companies, locksmiths, garages or for anyone needing to gain access into a vehicle without keys.
The ECOS kit has a carefully selected range of equipment that will best suit your needs on the greatest range of vehicles. Included in the kit is a Lever jack tool, air wedge, Glassman protector and wonder shield along with a long reach tool and flexible loop tool. In addition there is an excellent access smart tool that illuminates the inside of the vehicle through the windscreen, a quick training manual and DVD is also supplied.
All the above is held in a heavy duty carry case to keep it protected and together.
One Hand Jack Set
This set includes the patent-pending One Hand Jack that is the main component in this system. No longer do you have to jam a wedge into the door frame. Now with gentle leverage, you can put the one hand jack on the door frame, and slowly apply pressure and then insert the Air Jack air wedge, also included in the set. Then once the air wedge is in place and you have the air jack in place, use the Shielded Quick Max long reach tool, featuring a protective coating that protects the paint from scratches, and unlock the vehicle.
For vertical buttons, this kit also comes with the strap tool, nicknamed the Mercedes strap, for certain vehicles that have an exposed vertical button
One hand jack
Air jack air wedge
Quick video instructional DVD
Heavy duty carrying case
Quick car opening manual
Quick max long reach tool with Store-N-Go handle for tip storage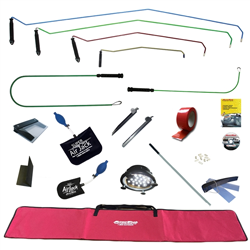 Ultimate Long Reach Kit
The Ultimate Long Reach Kit includes every tool and accessory you need to open virtually any vehicle on the road today using the long reach method. This 21 piece kit is the most comprehensive and complete long reach tool set ever made.
Four of the most popular long reach tools, Button Master and Mega Master snare tools, two Air Wedges, two pry-bar style wedge tools, protective lockout tape, slim jim, windshield mounted flashlight for night-time openings, our new heavy duty long padded carrying case with internal pockets, and the list goes on.
With this kit in your toolbox, you will never need any other tools to perform world class professional lockouts.
Features
Most Popular Tools Included
Most Comprehensive Kit
Easy To Transport
Perfect for Beginners and Pros