Locksmith Through The Door - Wedges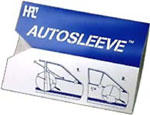 Autosleeve
The Autosleeve helps prevent damage to weather stripping and automobile finish. A hardened plastic interlocking envelope which once in place gives a protective tunnel to insert your car opening tool without the worry of scratching or damaging your customer's car.
£6.80 + VAT
Log in for Trade Prices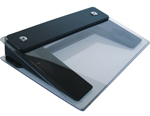 Glassman Wedge
Enables professionals to safely perform long reach lock-out techniques on cars with frameless windows.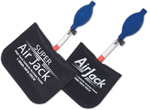 Air Wedge Air Jack
Allows you to create the necessary gap to insert your long reach tool. The bladder is made from ballistic nylon, meaning it won't stretch.
Available in 4 types:
Mini Starter Air Jack
Air Jack
Super Air Jack
Twin Air Jack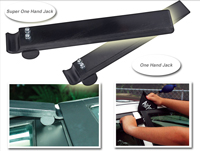 One Hand Jack Tool
The One Hand Jack and Super One Hand Jack are tools designed to aid in the insertion of the air wedge without having to use a large lumberjack wedge to slam into the door. It uses a rubber pivot (patent pending) to provide leverage to create working room to insert the air wedge. This tool is so simple and effective that it will make you wonder how did you do your job without it all this time.
The One Hand Jack and the Super One Hand Jack are made with one of the hardest industrial grade polycarbonate plastics available. The One Hand Jack Tool is available in two sizes and is designed to work with the Air Jack and Long Reach Tools. Just insert the tool between the door and the frame to create space to insert the Air Jack.
One Hand Jack
Super One Hand Jack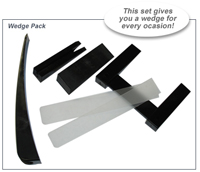 Wedge Pack
The Wedge Pack offers a variety of wedges for many uses. These wedges offer an in the door wedge for almost any situation. It features the patented Wedgee™ wedge, which offers a tapered design for easy insertion and bypass of obstacles inside the door.
Also included are our famous Strip Savers™ which allow for easier insertion of the wedge into the door and helps protect the weather stripping from damage, hence the name. Also included is the heavy duty truck wedge, the rubber wedge, and the classic style double and single wedge.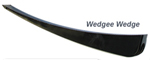 Wedgee Wedge
The Wedgee™ is a wedge meant to be used with our standard lockout tools. Its patented design allows the wedge to bypass many obstacles in the door. Its exclusive curve and thin bottom allows the wedge to sneak by without hitting objects in the door such as window regulators, making it easy to insert the wedge and create working room for your tools.